Climate And Weather In New York USA - New York Climate Zone
The climate of New York
state is generally humid continental, while the extreme southeastern portion of the state (New York City area) lies in the warm humid subtropical climate zone.
The annual average temperature across the state ranges from around 39°F (4°C) over the Adirondack Mountains to near 53°F (12°C) across Long Island. Weather in New York (NYC) is heavily influenced by two air masses: a warm, humid one from the southwest and a cold, dry one from the northwest. A cool, humid northeast airflow from the North Atlantic is much less common, and results in a persistent cloud deck with associated precipitation which linger across the region for prolonged periods of time. Temperature differences between the warmer coast and far northern inland sections can exceed 36 degrees Fahrenheit (20 degrees Celsius), with rain near the coast and frozen precipitation, such as sleet and freezing rain, falling inland. Two-thirds of such events occur between November and April.  which moves from northeast to southwest.
Unlike the vast majority of the state, New York City features a humid subtropical climate (Koppen Cfa). New York City is an urban heat island, with temperatures 5°F-7°F (3°C-4°C) warmer overnight than surrounding areas.
New York City lies on the coast, but it's also on the edge of a continent that cools down in winter and heats up in summer, and where different air masses collide: the cold ones coming from Canada and the warm ones coming from the Gulf of Mexico. The result is an unstable climate, with waves of bad weather alternating with clear and sunny days. 
New York weather in seasons of the year:
Winter (from December to February)
In New York, the winter is cold: the average temperature is just above freezing (0°C or 32°F), but cold spells, in which the temperature can drop to about -10/-15°C (5/14°F), are not rare. The wind chill can make the air feel colder than it actually is. 
Snowfalls are frequent, and sometimes can be abundant, resulting in real snowstorms. On average, about 60 centimeters (15 inches) of snow fall annually. On other occasions, the wind can blow from the south, bringing some mild days, with highs around 12/15°C (54/59°F). There are also clear and sunny days, with cold nights, and daytime temperatures mild or in any case acceptable. 
Spring (from March to May)
The weather continues to be unstable: the first warm days alternate with the return of cold weather. In March it can snow, and sometimes this can still happen in early April. But already in April, sometimes the temperature can exceed 25°C (77°F). In May, the average temperature becomes pleasant, although there can still be cool days, or even a little cold and rainy, while the first heat waves can bring the temperature above 30°C (86°F). On sunny days, the first afternoon thunderstorms can erupt. 
Summer (from June to August)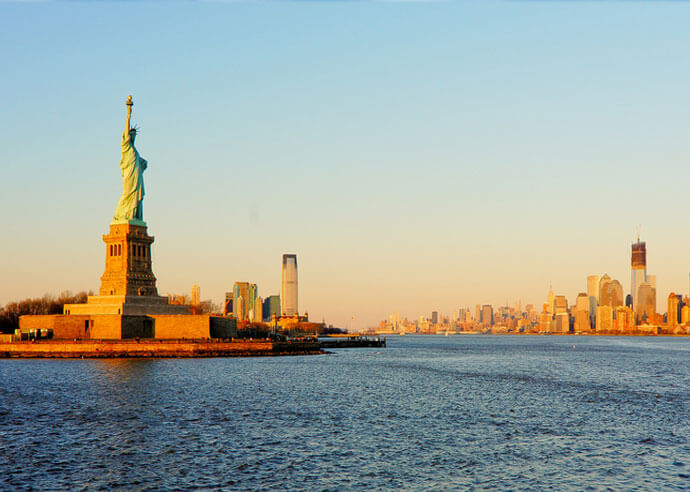 In the summer, the climate in New York (NYC) is hot, especially in July and August. However, there are different situations also in this season: cool days, maybe rainy as well, with highs around 23/25°C (73/77°F), alternate with hot days, with highs around 28/30°C (82/86°F). Sometimes even heat waves occur, in which the temperature reaches 35/38°C (95/100°F), and remains high during the night, around 23/25°C (73/77°F) or above. The amount of sunshine during the summer is good, even though, in addition to the passage of some weather disturbances, there is a moderate amount of afternoon thunderstorms. 
Autumn (from September to November)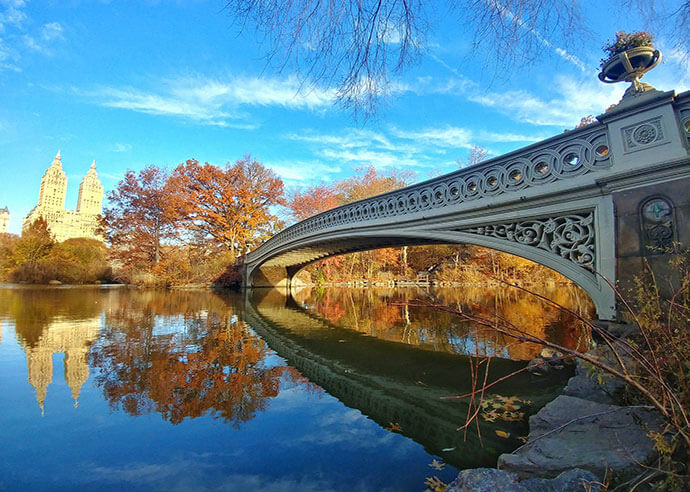 Autumn is milder and less unstable than the other seasons, at least in the first part. In early September, the weather is often still characterized by heat and humidity, with sunshine and some afternoon thunderstorms, then it quickly becomes mild and relatively quiet until mid-October, while in the second half of October the first cold days may occur. November is by now a cold month, and the first snowfalls may occur. There is a moderate amount of rainfall also in autumn, but it is still the season in which rainy days are a little less frequent. 
Precipitation in New York
Annual precipitation is fairly even throughout the year across New York state. The Great Lakes region of New York sees the highest annual rain and snow amounts in New York state, and heavy lake-effect snow is common in both western and central New York in winter. In the hotter months, large, long-lived complexes of thunderstorms can invade the state from Canada and the Great Lakes, while tropical cyclones can bring rains and winds from the southwest during the summer and fall. Hurricane impacts on the state occur once every 18-19 years, with major hurricane impacts every 70-74 years. An average of ten tornadoes touch down in New York annually.