Climate - Weather Forecast Texas USA | Average Temperature In Houston
Houston is the most populous city in the U.S. state of Texas and the fourth most populous city in the United States. It's located in the southern part of the United States, so the weather and climate in Houston are warmer than in other cities in North America
Average temperatures in Houston texas
The climate of Houston city is classified as humid subtropical, although it has a strong influence from the tropics. 
Houston averages only 18 days per year with temperatures of 0°C (32°F) or less and 99 days with high temperatures of 32°C (90°F) or more. Temperatures rarely reach 38°C (100°F). 
August normally ranks as the warmest month at 29°C (84°F) and January the coldest month at 12°C (53.1°F).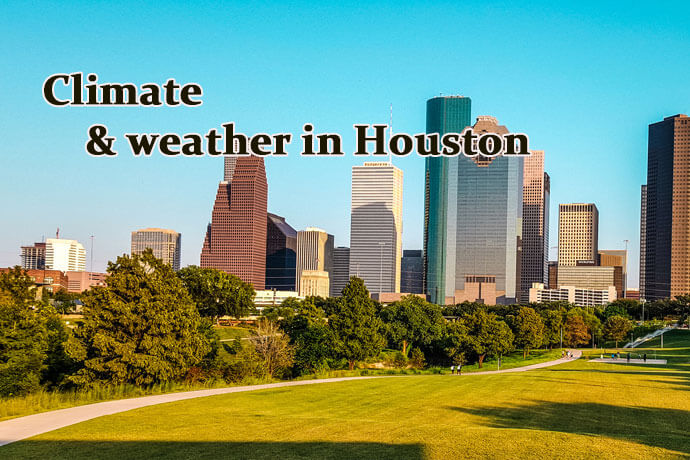 The average temperature of Houston texas
The normal annual precipitation measures 49.77 inches (1,264 mm). Occasional severe weather in Houston mostly takes the form of flooding. Supercell thunderstorms sometimes bring tornadoes to the area, most commonly during spring. Houston sometimes experiences tropical cyclones during the Atlantic hurricane season, which can bring heavy rain and significant damage to the city.
What is the weather in Houston?
¤ Spring (from March to May)
Spring comes with a gradual warm-up from winter. Temperatures are generally not hot yet, averaging from 24°C - 28°C (75°F - 82°F) in the day and 13°C –18 °C (56°F - 64°F) at night. Spring in Houston is a warm climate and often stormy.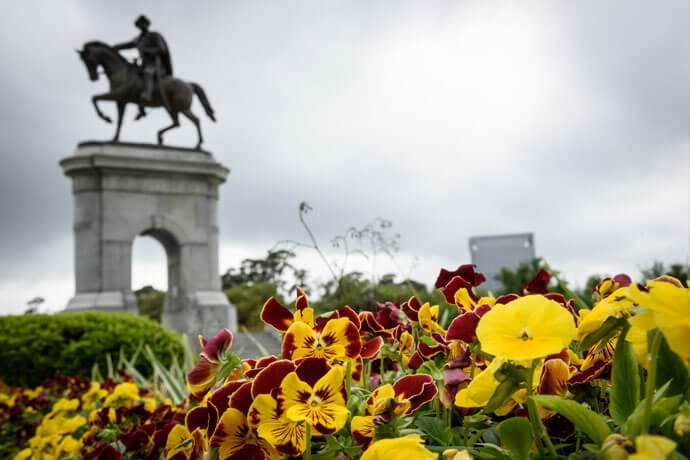 Weather in spring season
¤ Summer (from June to August)
In summer, the weather in Houston is very hot and humid, often with scattered afternoon showers and thunderstorms. The average relative humidity ranges from over 90 percent in the morning to around 60 percent in the afternoon. Summer temperatures in Houston are very similar to average temperatures seen in tropical climates, such as in the Philippines and Central America. The value of relative humidity results in a heat index higher than the actual temperature. The highest temperature ever recorded was 43°C (109°F) on September 4, 2000, and on August 27, 2011.
¤ Autumn (from September to November)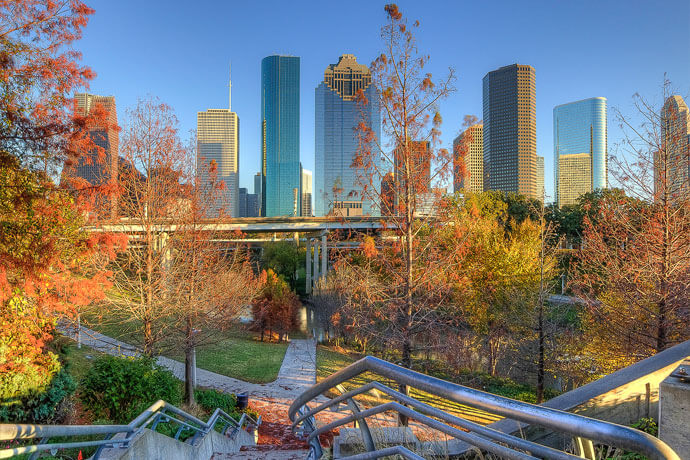 Weather in autumn season
Autumn in Houston is warm, with temperatures averaging in the upper 20°C -28°C (60°F - 80°F) during the day and from 10°C - 17°C (50°F- 60°F) at night. Cool fronts that move through the region during the fall can bring rain. Hurricanes can move into the area from the Gulf of Mexico, bringing heavy rains and high winds.
¤ Winter (from December to March)
Winters in Houston are relatively mild and temperate compared to most areas of the United States. Houston winters are, on average, colder than South Florida and Southern California but warmer than Dallas, Atlanta, San Antonio, Austin, and other inland southern cities. The average high in January, the coldest month, is 17°C (63°F) and the low 6°C (43°F).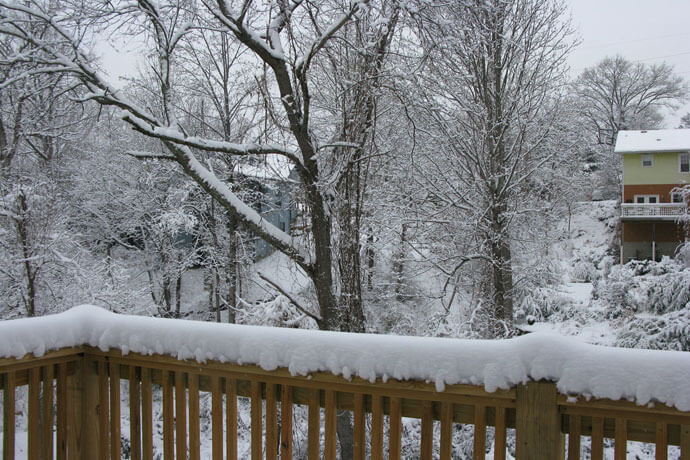 Weather in winter season
In December, southward-moving cold fronts can bring cold rain, low wind chills, and, rarely, frozen precipitation. Early January is the coldest time of the year, with temperatures moderating slightly by February.
Average Precipitation in Houston
Rainfall is the most common form of precipitation in Houston. The wettest month is June, with an average of 5.93 inches (151 mm) of rain. Houston normally receives 49.77 inches (1,264 mm) of precipitation on 104 days annually.  Flash flood warnings are common all year, and due to the flat landscape, heavy rains often threaten life and property in the city. Sea breeze showers which are monsoon-like (especially during the summer months, originating from the mesoscale convective cycle, where the polar jet stream usually forms an omega block) are common throughout the Texas Gulf Coast area (from Brownsville to the Florida Peninsula), which has a similar climate to areas like Mumbai and Kolkata – locals refer to the sea breeze showers as the Gulf Coast Monsoon (also called the Gulf of Mexico or the Texas Monsoon), despite Houston being 50 feet above sea level.