Here Are Best Weather Apps for iPhone
Weather apps for iPhone are important to know when we wear a heavier jacket or take along an umbrella. These apps can provide us everything from a forecast to plan out our days and weeks to sudden changes in Nature's mood to our sprinkler timings.
Best Weather Apps for iPhone
Depending on which weather app you choose to download, you may also get additional information like monthly forecasts, humidity levels, and precipitation totals. 
There are loads of weather apps on the App Store. Sure they are a great option with their nice graphics, animations, and useful hourly forecasting. We've got a list of the best and worth trying out weather apps across a variety of styles.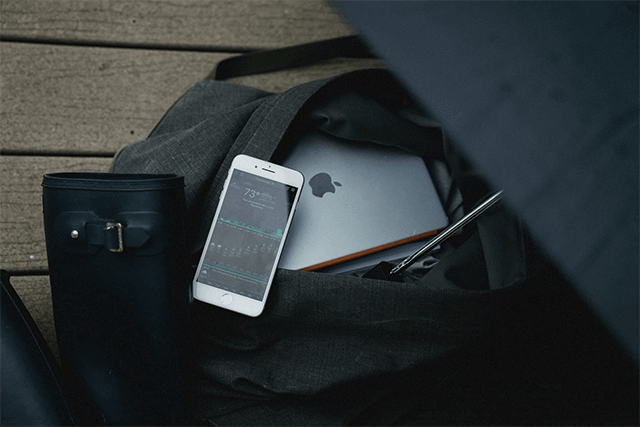 Here Are Best Weather Apps for iphone
AccuWeather
One of the greatest weather apps for iPhone we should include in this list is AccuWeather, which is licensed to thousands of websites, radio stations, newspapers, and more. Using this app, you can get precise information of weather forecasts and well prepare for any sudden changes in weather thanks to its live alerts and detailed reports. By displaying weather info card at the top of a very long primary page, the app allows you to scroll down to see allergen levels, and hourly and daily forecasts. There's an Apple Watch app with plenty of complication settings if you want your weather on your wrist. The downside of AccuWeather is that it is loaded with ads. And by default, it sells device-specific data to third parties.
Weather Forecast
This app is certaintly a cool option for  weather enthusiasts who want a full view of the weather with the simlicity, technology and accuracy. Whether you want to check your current weather conditions or weather next weeak for your outings, Weather Forecast just covers all. You can also manage personal weather alerts, so you receive notifications that are important to you. One noticeable feature of this app is that it displays some key data within one week in graph (temperarure, humidity, pressure, wind, precipitation), makeing it easy for you to read. The key selling points of Weather Forecast is  It's are the simplicity and clarity. You must say wow with how the data is aesthetically presented. Do all these feature make Weather Forecast one of the best weather apps for iPhone?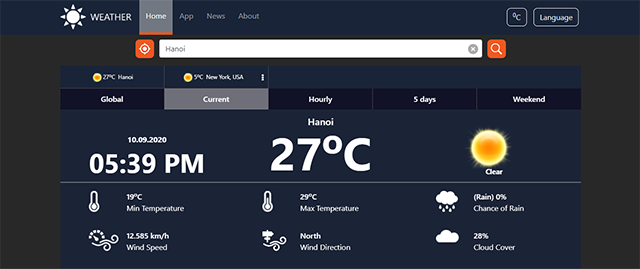 Download weather apps for iPhone
WeatherBug
WeatherBug is a great choice for people with allergies. The app not only provides daily, hourly, and 10-day forecasts, but also specify the pollen index for the data such as which allergy triggers are predominant. 
We also like its connected-home feature that enables you to connect your Nest, Honeywell, or SmartThings hub for a detailed analysis of your energy consumption. That way, you can figure your daily costs, average electricity, and gas costs based on weather conditions, even if you don't have a connected thermostat.
Dark Sky
Using deep machine-learning mode to predict weather, Dark Sky- one of the most accurate weather apps for iPhone can give you down-to-the-minute weather forecasts for your location. A lot of other apps and services use its API to feed that hyper-local prediction model. You should have no trouble using this app as it is pretty basic and easy to use. Though the near term predictions are super precise when they work, you might not find a really wide variety of weather data here. However, if you look for a free weather app, then consider choosing others.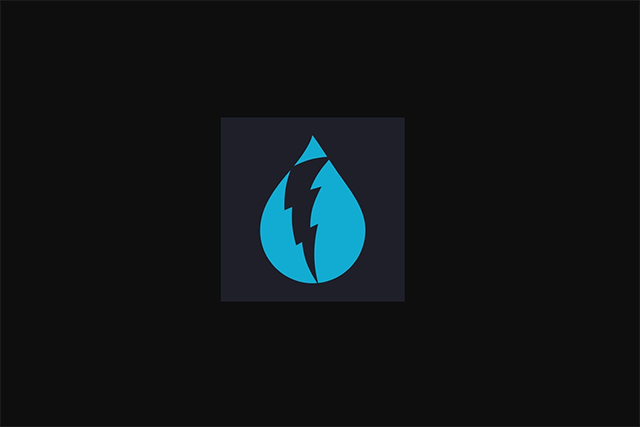 Accurate weather apps for iphone
Weather Line
Weather Line is another intuitive weather app that is definitely worth a look.
It give you all the general info you need at a glance through displaying different weather locations as simple cards. The app's interface is clean and simple, making it easy for you to see. For more detailed data, you just tap the card. 
The app's free version has basic features. If you want to unlock the app's potential, you have to pay for the Supercharge subscription ($1.99 a month or $9.99 per year). With the subscription, you get lots of great stuff such as a bunch of themes and app icons.
Carrot Weather
One of the best weather apps for iphone is Carrot Weather. The app offers you weather updates, including detailed breakdowns of current conditions.
Despite not offering free version, Carrot Weather has three tiers of premium subscription to opt into. The key feature of Carrot Weather is the robot voice that greets you with its favorite term, meatbag, while providing an accurate forecast. The app cleanly presents a ton of great weather data in an at-a-glance timeline. If you sign up for the premium suncription, you can not only customize notifications for rain, lightning or Apple Watch complications but also access look at old historical weather reports, and other great features. If price doesn't matter to you, this weather app is definitely a great choice.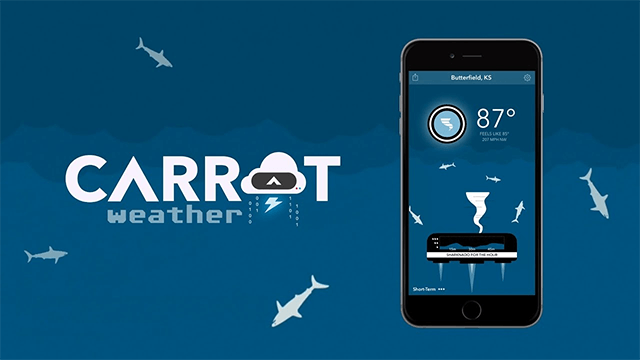 Carrot Weather is one of the best Weather Apps for iphone
Windy
Windy app is all about big weather maps and visualization. It fills your iPhone screen with big, beautiful maps with lots of attractive data layers to choose from. No matter what you want to check: A tropical storm, forms of air quality, potential severe weather, or you just need to know if it will rain tomorrow, Windy gives you the most up-to-date weather forecast. The app is free of charge and ad-free as well. If you just need the basic forecast for your area or where you're traveling to, there are far better apps to pick. This app has neither iPhone widget nor Apple Watch app. Windy is worth being included in the list of the best weather apps for iPhone.
The Weather Channel 
In addition to  hourly and daily forecasts, The Weather Channel  gives you the info to protect yourself from both raging hurricanes and storms. What makes this app particularly useful are the robust video section and a well designed Apple Watch integration.
Download The Weather Channel today to receive weather alerts, big or small, streamed directly to your smartphone or tablet. Brave the harsh storm or face the winter chill getting ready with The Weather Channel may not be easy!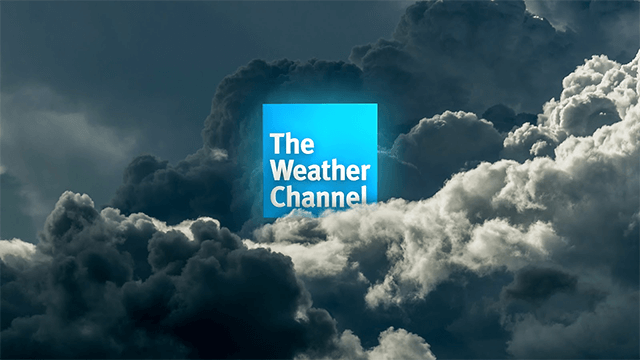 Best Weather Apps for iphone: The Weather Channel
Conclusion
Here are the best weather apps for iphone that we think are worth being positoned in your phone. With just a single tap, you can decide if you'll need to wear a sweater, or prepare for more serious conditions.