Cold Weather Outfits That's Never Out of Date
Hey girls, winter is coming!
Do you have any ideas for cold weather outfits?
If not, don't worry. These clothing tips we're going to list here will save your time standing in front of your wardrobe. 
When winter comes, we admittedly get pretty lazy to do everything. But guess what? Just because it's frigid out, doesn't mean we have to give up your interests in fashion. Instead, we all have to think a bit more creatively about how to get dressed. The good news is that most of the items you'll need to re-create the winter are probably already hanging in your closet.
Before diving into the best items of clothing for cold weather, we give some tips for dressing warmly.
Go on, scroll down.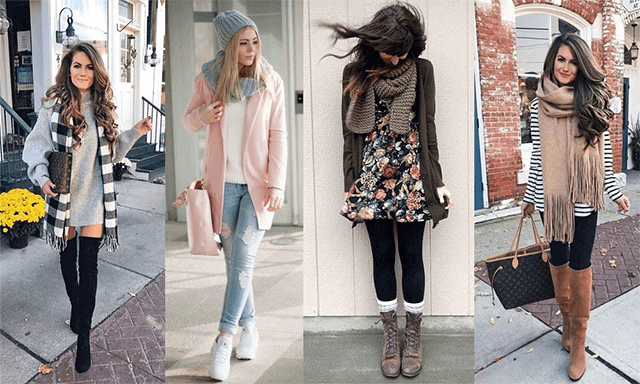 Cold Weather Outfits That Will Never out of Date
Tips for Staying Warm
Layering is the best tip for cold weather outfits. For example, on top, you should wear a coat and layer thick tights or leggings on the bottom.
Keep your hands and feet covered by wearing winter boots, or putting on multiple pairs of socks. And don't forget warm mittens!

Wintry accessories are also necessary (Scarves, hats, knit headbands, earmuffs).

Go for fabrics like wool, fleece, cashmere 

Remember that safety beats fashion. Low temperature can negatively affect your health, so remember while staying chic and warm is necessary, it's better to stay safe.
Ideas for Cold Weather Outfits
1. Layering
Layering in the winter is never out of date- It's true. 
You must not be a weird guy to pile on the layers as this is an incredibly practical way to stay cold and stylish when it's really cold.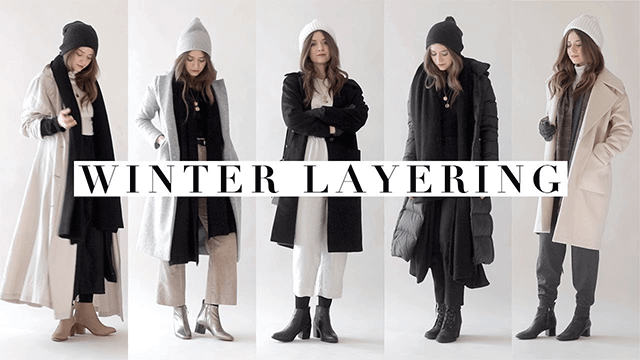 Cold weather outfits ideas for girls
Putting on a turtleneck, under a sweater, under a jacket, for example, will definitely beat the wind. Similarly, it is much warmer to wear a dress over a pair of pants than a pair of tights only. 
Sometimes, the cold weather outfits in your wardrobe that you always depend on are no longer cut nice. 
This is when your creativeness comes in. Find different ways to layer under your clothes. For example, you can wear a pair of tights under a pair of ripped jeans or throw a long-sleeve T-shirt under a free size sweater.
2. Let your boots catch noticed
Great winter style can not be without a great pair of boots. 
Consider matching a great pair of over-the-knee boots with a short dress, you will be the center of attention for sure.
You can also get the world noticed by putting on killer ankle boots paired with cuffed jeans or a dress.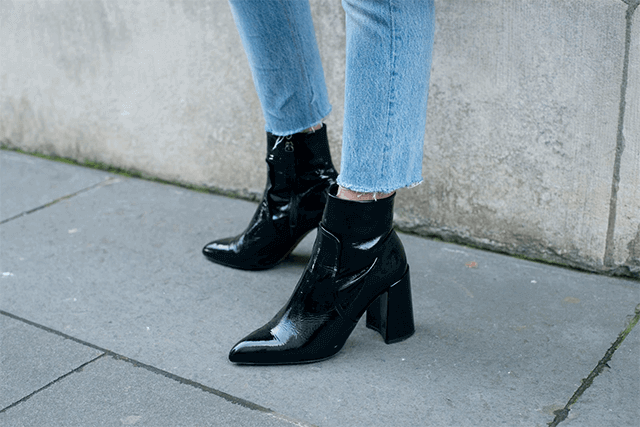 Boots are one of the best cold weather outfits
If it's snowing and you have no choice but to wear less fashionable snow boots,  be creative to mix it with a great new inventive outfit, rather than just throwing them on with just anything. This tip for cold weather outfits will definitely work.
3. Belt coats 
You may get bored of putting on an old winter coat day after day. Don't worry, this way will add new life to your coat - Belting it. 
It seems almost like you have a brand new coat while it is actually not. This styling trick will work with any coat style. So give your coat a new look!
4. Embrace fur 
Cold days are the best time during the year to wear fur. You have so many ways to mix fur with other outfits like jeans. You can either put on a fur vest or stole over your winter coat. It will definitely add elegance to your appearance. 
5. Put on a winter hat
Splurging on a pair of boots or a coat is what is expected in the winter, but you're also advised to look for the winter hat of your choice. Not only does it keep you warm but also gives your look a highlight. Is a winter hat chosen as one of the best cold weather outfits?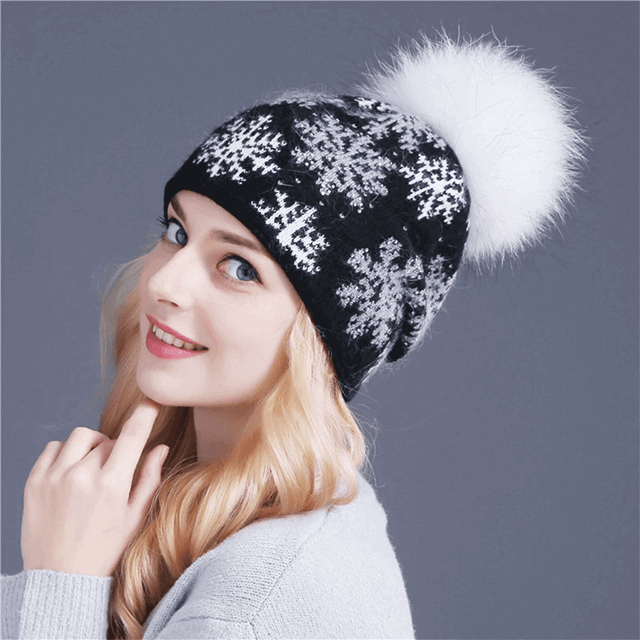 Cold weather outfits: Choosing a wool hat to keep you warm 
Choose a hat that not only looks stylish but also covers your head and ears to stay warm. If possible, choose a hat made out of wool, knit fabric, or a poly-cotton blend. A hat that covers the top of your head but leaves your ears exposed is never a good choice.
6.  Cold weather outfits scarves
Well, I believe that your creativity will not limit your ways of using a scarf. Instead of wrapping it around your neck only, you can tie it around your head to have a retro look. Another possible way is to get it belted on top of a jacket. 
7. Long cardigan paired with jeans
When it comes to winter clothes, we can't overlook a long cardigan. 
The tall and slender female when wearing the cardigan will be extremely attractive, but not so that this jacket style is picky. Just with little mixing tips of cold weather outfits, short-legged girls can add a new dimension to their outfit and become pretty. Put on your long cardigan with jeans to keep it elegant while staying trendy.
Best Fabric for Cold Weather
Synthetic fabrics such as polypropylene are best suited for extremely cold weather. Polypropylene is capable of wicking moisture away and insulates even when wet. For the insulating layer, consider Polarguard, Thinsulate, or Primaloft.
Another great choice of fabric for chilly days is wool. It wicks moisture, insulates better. Not only is wool odor-resistant but also durable.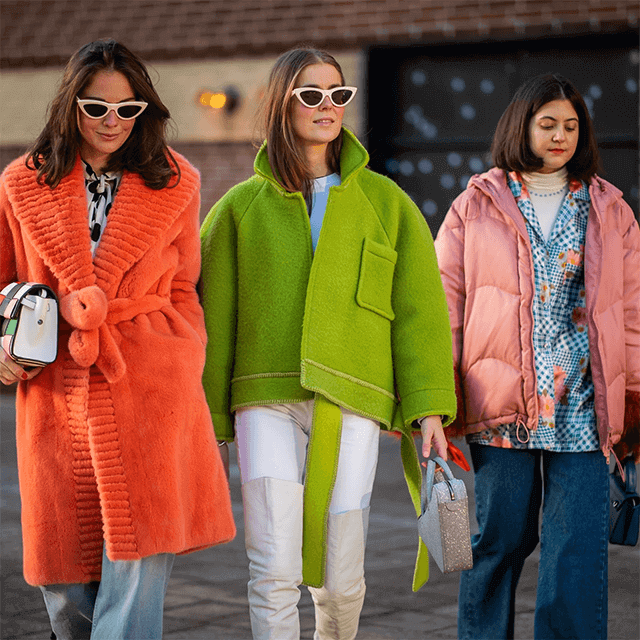 Cold weather outfits that just are perfect
Silk is also chosen for the days that are too cold and you are less active. Because it retains odors and is moderately wicking. A thin layer of silk can go with any garment.
How about Cotton?
Well, we do not think Cotton is one of the best cold-weather outfits as it absorbs water and holds the water next to your skin.
How do know cold days are coming?
The advent of weather apps and weather websites makes it easier for you to know if you'll throw on a coat or a T-shirt for the next day. Weather Forecast is one of the best weather apps that can provide you with not only daily weather conditions but also weather forecasts for 5 days, 7 days. No matter where you are, you can track if it's going to rain.
Conclusion
Before frigid days creep up on you, it's time to ensure that you're equipped with cold-weather outfits that'll keep you warm and stylish.
Which outfit is your favorite? Do you have any tips for dressing warmly? Please share it with us in the comments!