Cold weather accessories: How to choose your winter scarves?
The scarf is, of course, one of the must-have winter accessories. Has your wardrobe stocked up with scarves that not only keep you warm but also give you a fashionable look this winter? If you haven't, let's check out this article "Cold weather accessories: How to your winter scarves?" right now!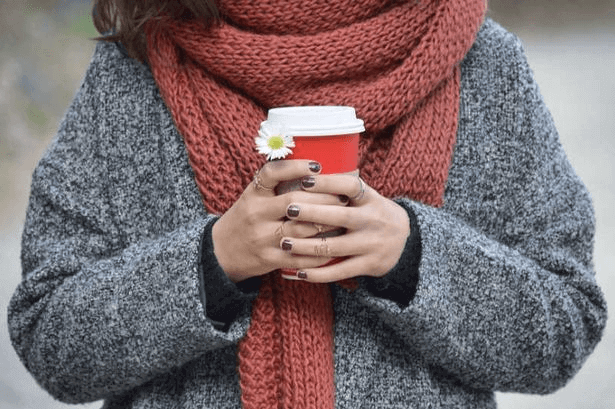 Scarf - one of the must-have winter accessories
We all know that it's vital to stay warm in the winter, especially for those living in places where it is common to see sub-zero temperatures during wintertime. Gloves, socks, hats, scarves, etc are the ultimate cold weather accessories that we all need to have. 
About scarves, we mean winter scarves, they are must-have winter items for both men and women. But to be honest, it's not easy to choose the right winter scarf since there are countless scarf choices available out there in terms of styles, sizes, brands, colors, fabrics, prices, and more. So, how to find the one that best fits your style while still keeping you warm well? Keep reading on and then you will get useful tips on how to choose a great winter scarf. 
Picking the right fabric
Unlike summer scarves that are often made of silk or chiffon, winter scarf fabrics are thicker and more capable of keeping warmth. When it comes to winter scarf fabrics, well, the options are a lot, including wool, cashmere, cotton, and so on. No matter what type of fabric you choose for your scarf, make sure that it is comfortable to wear and provides adequate insulation to the body.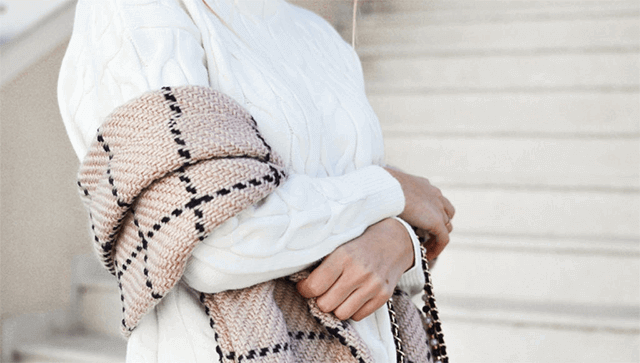 A cashmere winter scarf
Among fabric options for winter scarves, wool and cashmere are great options that you can't go wrong. Wool scarves are perfect cold weather accessories due to their thick fabric and durability, plus the capability to protect us from wind and cold. 
About cashmere, a type of wool, it's a natural fabric that gives a high level of comfort when wearing. Cashmere is finer and softer than regular wool but comes with higher prices. 
Interestingly, cashmere can keep us warm, but it also protects the wearers from heat. For that reason, cashmere is also used to make summer scarves.
Considering the type of scarf
Winter scarves come in many different shapes and sizes, representing various styles. From classic scarves, the snood, to ones having pockets to keep your hands warms, etc, there are a wide variety of options for you to choose from.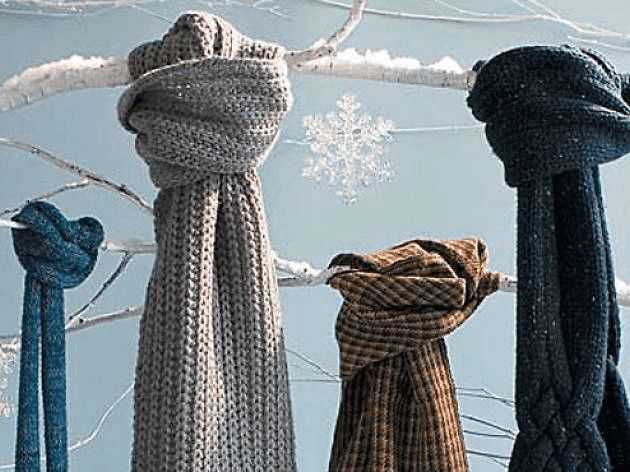 Cold weather accessories: Winter scarves come in many different shapes and sizes
Of course, different types of scarves have different shapes and sizes with different ways of wearing. Among various types of winter scarves available out there, below are 3 of the most common ones:
- Regular scarf
The regular scarf is an extremely familiar type of scarf. Its shape is like a rectangular piece and elongated enough to wrap around your neck at least once.
- Infinity scarf
Infinity scarf? Well, it sounds like this type of scarf has an unlimited piece of cloth for us to cloak the neck. But, well, that's not the case. 
Infinity scarf has the form of a closed loop (without ends, of course.) With that shape, it makes a sign of infinity. 
One of its big pros is that it doesn't come unwrapped suddenly in the wind, so it seems to help keep you warm better.
- Snood
Snood is also a wrap-around scarf. It's quite similar to an infinity scarf since they all in a closed-loop shape. The difference between them is that the snood sits higher on the neck and, well, can act as a hood. Snoods are often made from thicker wool, so they can stop heat from escaping through your body so well.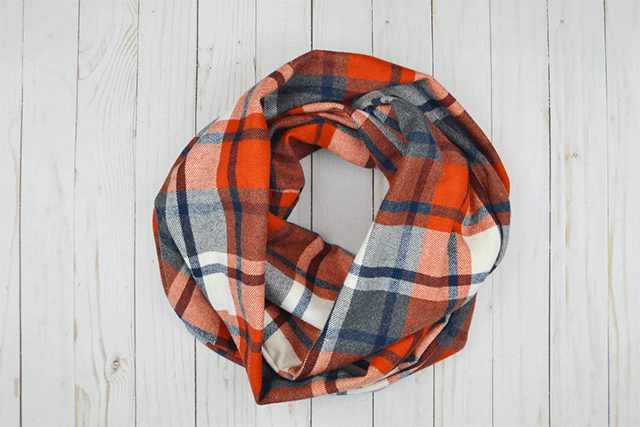 Cold weather accessories: An infinity scarf
In addition to these 3 types of winter scarves, of course, there are dozens of styles for you to go for such as stole/boa, triangle scarf, scarf with pockets, shawl/pashmina, etc. So, pick ones that best fit your fashion styles, gender, weather, ...
Cold weather accessories: What about the color?
As a fashion item, the scarf color is also a factor to count on. When considering the colors of a scarf, it's never a bad idea to look for ones that are compatible with your complexion. 
While some colors look great on everyone, some others are really determined based on the wearer's skin tone. For example, colors like olive, mustard, or cream are some great go-to's for those with warmer skin tones.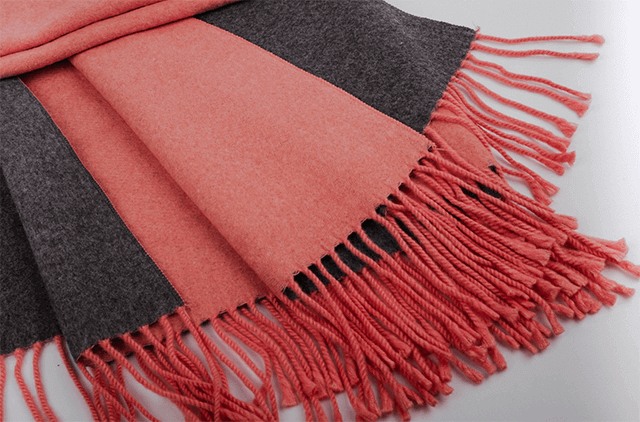 The scarf color should be compatible with your existing wardrobe
Also, the color of your scarf should be compatible with your existing wardrobe. So, if your winter closet now includes a lot of neutrals, consider adding some boldly colored scarves, for example. 
If you want to be trendy, watch for the color trends at the moment before purchasing your winter scarf. To be safe, you can choose neutral colors like black, gray, white, brown, beige, ... since they are generally matching with almost every outfit and skin tone.
Other factors to consider
Fabrics, colors, and types of scarves are 3 fundamental things to count on when you look for a new winter scarf. Together with them, things like brand, price, product quality, and more are also necessary to take into consideration. As you can see, it's not easy at all to buy these cold weather accessories, is it?
Conclusion
If you aren't living in the best weather places in the world with warm winters, scarves are must-have items. And recently, we learned a few basic guides and tips on how to choose a winter scarf. It's not a piece of cake for sure. And that's the end of today's article "Cold weather accessories: How to choose your winter scarves?". Hope you enjoyed it!
Sources:
finder.com.au/top-winter-scarves
ties.com/blog/choosing-the-perfect-scarf
eole.co/scarf-ultimate-guide