Weather Hanoi today: What should eat in Hanoi today?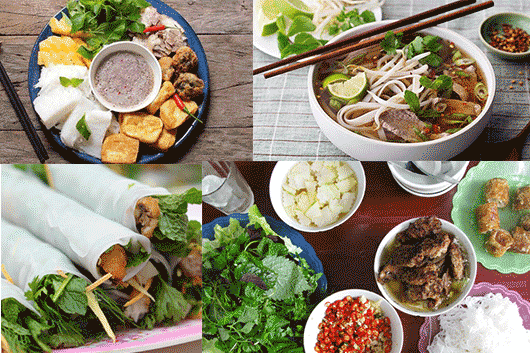 Weather Hanoi today: What should eat in Hanoi today
Opening a weather forecast app, check the weather Hanoi today and you see it may be a nice day. It would be great if you could go around Hanoi and try some food. Here's a list of the 11 most delicious Hanoi foods you should try on such a nice day. Not only Pho or Spring rolls, but Hanoi is also famous for many other dishes. Let's discover what they are!
Weather Hanoi today: What should eat in Hanoi today
1. Phở (Pho)
Pho has been considered the delicacy of Hanoi cuisine for a very long time now. It has a strange attraction which no one can be irresistible. Hanoi people as well as tourism often said that "No trip to Hanoi is complete without eating a bowl of pho" and it totally deserves that appellation.
The main ingredients of Pho include rice noodles (made from rice flour), the fragrant broth from ginger, cinnamon, anise, and grilled cardamom, mixed with the sweetness of the cow bone which is carefully stewed for hours. Therefore, the fragrant broth is more and more savory, sweetie without MSG. The beef is sliced and the ceiling into a bowl of noodles along with aromatic vegetables.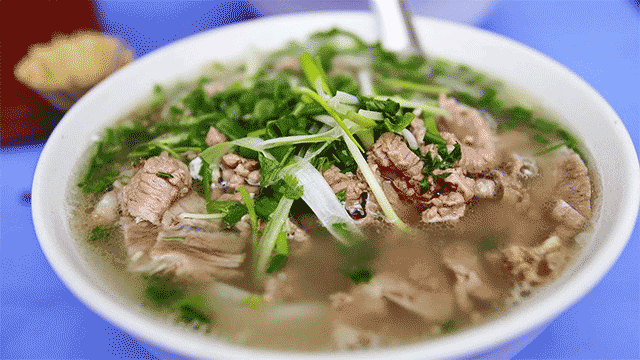 Phở Bát Đàn – The best Pho in Hanoi, Vietnam
Some famous addresses below:
Phở Bát Đàn: 49 Bát Đàn, Hà Nội. 
Price: 40.000VND – 50.000VND / $1.8 – $2.6.
Phở Thìn: 13 Lò Đúc, Ngô Thì Nhậm, Hà Nội.
 Price: 40.000VND – 60.000VND/ $1.8 – $2.6.
2. Bún Chả (Kebab rice noodles)
Another dish suitable for the weather Hanoi today is Kebab rice noodles. The Bun Cha is a vermicelli dish served with salty-sweet sour pickled papaya and grilled meat. Especially, the meat is selected carefully, seasoned marvelously with many different spices such as garlic, onions, pepper, salty, etc. Then they are grilled slightly, not too cooked to avoid being dry, scorched but fragrant, sweetmeat, and tender. No need for fussy ingredients, with just simple, available ones, Bun Cha still makes its impressive tasting.
When tasting this dish, you should eat with raw vegetables, distilled chili, capsicum which will be a good experience on a pleasant day or even a hot day. Besides, you can order more fried spring rolls in order to increase the deliciousness of the kebab rice noodles.
The mixture of the spicy, sweet, salty, and sour taste creates an unforgettable taste as well as eliminates the heat of boiling summer day with the help of the freshness of the vegetables.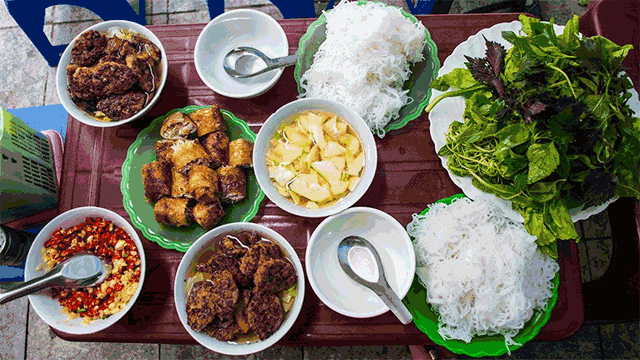 Some famous locations below:
Bún Chả Gia Ngư: 25 Gia Ngư, Hoàn Kiếm, Hà Nội. 
Price: 40.000VND / $1.8
Bún Chả Hương Liên: 24 Lê Văn Hưu, Hai Bà Trưng, Hà Nội. 
Price: 40.000VND – 60.000VND/ $1.8 – $2.6.
3. Phở cuốn (Rolled Pho)
Should eat what foods for hot weather? Rolled Pho noodles are a good idea for you. Being one of Hanoi's delicious typical dishes, this dish will satisfy your stomach. 
The ingredients of this dish are diverse based on the favorite taste. The main parts include beef/ pork, large noodle papers, herbs, and lettuce. Besides, in many places, people prefer to put eggs, cucumbers, carrots, or sausages which are sliced shredded in the rolled Pho. 
Diners can be creative to make their own Rolled Pho. On a boiling hot summer day, eating the freshly rolled pho with some sour and spicy dipping sauce is the best choice for you. The dish is delicious and attractive, especially you will not be hot inside like fried foods because the rolled Pho uses many vegetables, fresh ingredients.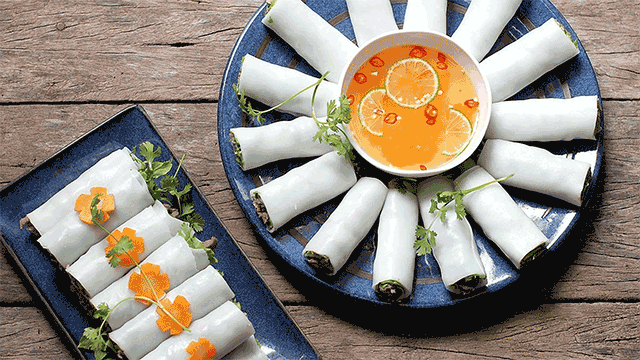 You can taste this dish at some famous places below:
Phở Cuốn Hương Mai: 23 Nguyễn Thị Định, Trung Hoà, Hà Nội. 
Price: 55.000VND /disc 10 pieces/ $2.3
Phở cuốn Hưng Bền: 33 Ngũ Xã, Trúc Bạch, Ba Đình, Hà Nội. 
Price: 55.000VND / $2.3
4. Bánh cuốn (Stuffed pancake)
What should I eat for the weather Hanoi today? Steamed rolled rice pancakes could be a great suggestion for you. They are white sheets made from rice flour wrapping full of topping. Whilst the topping is the careful mixture of minced pork, mushrooms, and fungus. In Hanoi, some locations often serve steamed rolled rice pancakes with roasted cinnamon pork in order to increase diners' taste.
Finally, fish sauce is mixed skillfully which contains chili, minced onion, and garlic. People often said that fish sauce in particular, dipping sausage in general is a soul of dishes, therefore, it is always appreciated and made carefully.
With this steamrolled rice pancakes is too. Not only made delicately but also it is served while still warm as well as add fragrant oil to it so as to satisfy hunger stomachs.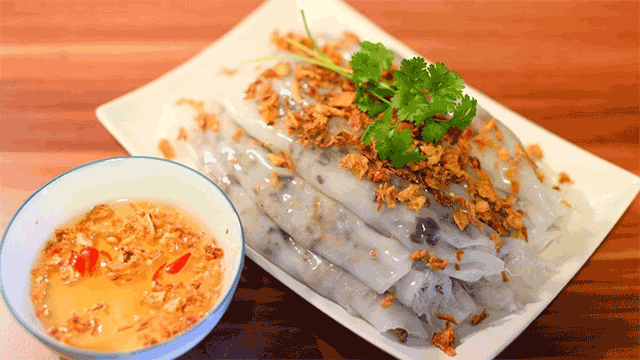 You can taste Banh Cuon at some famous places below:
Bánh cuốn: 41 Tran Dang Ninh St., Cau Giay, Hanoi. 
Price: 30.000VND/  $1.3
Bánh cuốn Bà Hoành: 66 Tô Hiến Thành, Hai Bà Trưng, Hà Nội. 
Price: 30.000VND/  $1.3
5. Bánh Mì (Bread)
Bread is considered the best Vietnamese sandwich which everyone going to Vietnam should try. From a fast morning( or even dinner) dish for all people, it becomes a special street food in Vietnam and is recognized all over the world. On the way of development, Vietnamese bread is not only served in the morning or evening but also served at many different times a day. 
Therefore, in this pleasant weather Hanoi today, it will be an interesting experience for you to taste bread with a cup of kumquat tea. 
The bread is grilled to have a perfect crunchy texture along with a diversity of topping such as pate, parsley, sausage, pepper, fresh herbs, cucumber, etc and a little more chili sauce traditionally. That will make your stomach full all day without worrying or being hungry. One more reason for choosing this dish is because it is diverse, you can add your favorite topping, make your bread.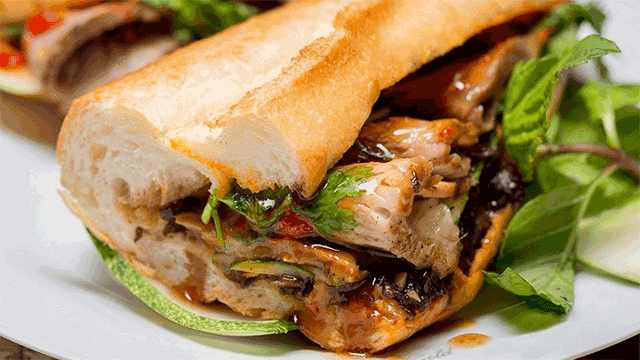 Some delicious Banh Mi addresses you should try: 
Bánh Mì 25: 25 Hàng Cá, Hoàn Kiếm, Hà Nội. 
Price: 30.000VND – 55.000VND/ $1.3 – $2.3
Bánh mì Bà Dần: 34 Lò Sũ, Hoàn Kiếm, Hà Nội.
Price: 20.000VND – 30.000VND / $1.3
6. Bún đậu mắm tôm (Vermicelli/ Noodle with fried tofu & shrimp paste)
Another special food in Hanoi you should not miss is Bún đậu mắm tôm (Vermicelli/ Noodle with fried tofu & shrimp paste). Although it is an affordable dish, it still has its special taste that attracts diners. The main ingredients of this dish include fried tofu, vermicelli with shrimp paste. Besides, people make it more attractive with the appearance of fried pork rolls, pork sausage, boiled hock, etc. 
The way of arranging the dish is so simple. All ingredients are arranged in a bamboo base, banana leaves cover above. They are small pieces of vermicelli, small chopped tofu that is deep-fried in fat lard. When tasting, you eat with shrimp paste prepared with chili, sugar. That's so irresistibly delicious.
Picking up a piece of vermicelli, a piece of fried tofu dipped in the shrimp paste, together with fresh full-of-fragrant herb, you will feel the aroma of vermicelli, the richness of the fried tofu, the sweet and salty taste of the delicate shrimp paste. This combination of tastes is extremely attractive.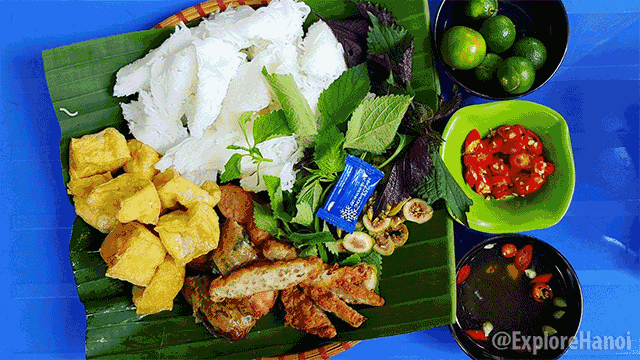 You can try this dish at some famous places below:
Bún Đậu Việt: 27/31 Hàng Khay, Hoàn Kiếm, Hà Nội. 
Price: 40.000VND / $1.8
Bún đậu yến: 1C Ngõ Trạm, Cửa Đông, Hà Nội.
Price: 35.000VND/ $1.6
 7. Chả Cá (Grilled Fish)
Weather Hanoi today is cold. The wind breezes which makes us want to eat something warm. The Chả Cá (Grilled Fish) is cooked quite simply but not sketchy. It is freshing turmeric fish with dill that Hanoi people often eat with tangled rice noodles, basil, roasted peanuts, peeled onions, dill, and then dip it in elaborately - mixing shrimp sauce. All makes irresistibly tasting. If you can not bear the smelling or do not like to eat this smelly sauce, you can also change fish sauce instead.
Fish is the main raw material, processed mainly from lentils, basa fish, and Snake-head … The fresh fish is cut into pieces and then seasoned with turmeric in order to have a beautiful yellow appearance.  After that, the chef fried them in oil and then placed both the gas stove and the pan on the table for customers.
When tasting, guests will put onions, dill into the pan, and stir up. Put rice noodles into the bowl, add some peanuts, herbs, a piece of fish, and some fried onion in the hot pan, lastly sprinkle some vermicelli on the small spoon and start enjoying.
All of these materials blended to create an unforgettable taste of Hanoi specialties. Most tourists going to Hanoi want to try this dish.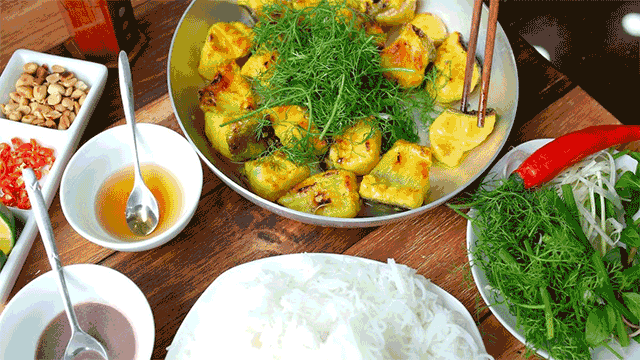 You can try this dish at some famous places below:
Chả cá Lã Vọng: 14 Chả Cá, Hoàn Kiếm, Hà Nội. 
Price: 150.000VND/person / $6.5
Chả cá Thăng Long: 19 – 21 – 31, Dương Thành, Hoàn Kiếm, Hà Nội. 
Price: 150.000VND – 170.000VND/person / $6.6
8. Bun Thang (Rice Vermicelli with Chicken, Egg, Pork)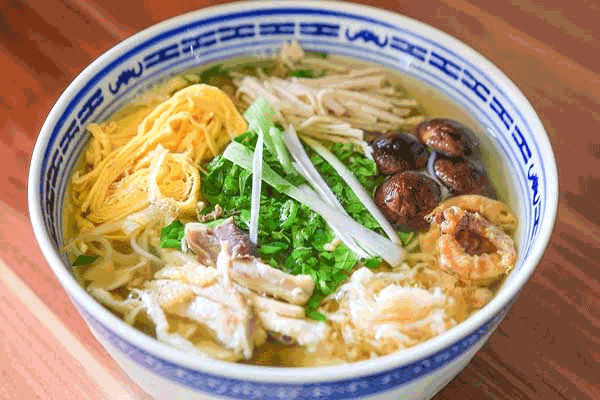 Bun Thang is a culinary feature that when arriving in Hanoi you cannot ignore because it is not only a dish but also a culinary quintessence that has been summarized by the people of Ha Thanh for generations.
A bowl of Bun Thang includes an omelet, silk rolls, chicken, shiitake mushrooms, radish with a little scallion, and laksa leaves. The special thing about vermicelli is that all of the ingredients are chopped thread, very marvelous, and meticulous. Also, you can add a little shrimp paste if you want to make it more flavorful. All the ingredients are neatly arranged and the sweet broth is delicious to eat. Bun thang is a delicacy in processing and so is the person who enjoys it. Adding a little chili sauce, lemon juice will make your Bun thang bowl more enjoyable.  
Both hot summer day and cold day with breezing wind, Bun Thang is still suitable to taste. 
Conclusion
Opening a weather forecast app to see how the weather Hanoi today, that will be a nice day. Do you want to do a food tour with your friends around Hanoi? Here is the list of special food in Hanoi cuisine, everyone who is in or goes to should try these irresistible dishes.