Which weather app is the best?
We can't control the mood of Mother Nature. That's why a good weather app is significantly important to help us keep an eye on what's happening in the sky and prepare for more serious conditions. With wild weather across the country, particularly hurricanes threatening coastal states, it's a good idea to check the forecast or radar for upcoming conditions. A weather app lets you do that wherever you are, whenever you like. With the tap of a finger, our little pocket computers can make sure we're never caught without an umbrella or sunscreen as the weather changes.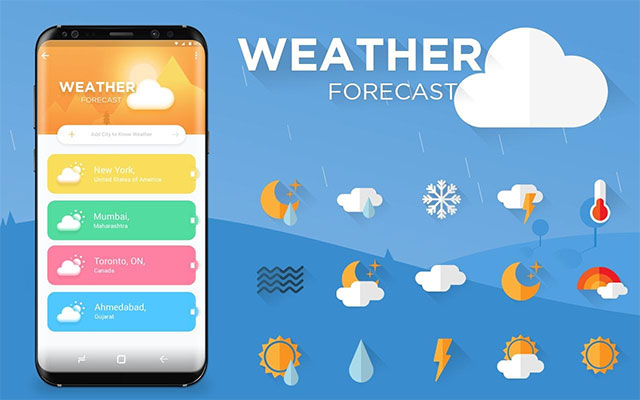 Which weather app is the best?
Top 8 Best Weather Apps 
There is a wide range of apps available to provide all manner of weather forecasts and meteorological data. Though not all weather apps are equally created, they do a great job of forecasting weather condiction across regions. Here we've narrowed down the best ones currently available on both Android and iOS. Get one installed on your phone, and you'll be able to stay on top of weather conditions in your neck of the woods. 
Flowx
You are probably mesmerized by how this weather app packs a bunch of data into visualizations. The app shows key data such as temperatures and precipitation levels in different ways. you can choose the look that you like most. The app also features the most detailed radar map we've seen so far. You can jump forward and backward in time by sliding your finger across the screen while looking at the map.
Like other weather apps mentioned above, Flowx focuses on displaying basic information about weather conditions, but this app excels at detailed looks at longer periods of time. Give this weather app a try if you want your weather forecast to be as aesthetical as possible.
Weather Forecast
Whether you want to know a quick update on what the weather looks like in the next 30 minutes or want to have an in-depth insight into the next week's forecasted wind speeds and precipitation levels, the Go weather forecast has you covered. What makes this app so great is that it provides real time, in-minute forecasts in a pretty, stripped-down interface that won't overwhelm you. The weather app is available on both Android and iOS and has more features than you can shake a stick at. Go weather forecast prides itself on the accuracy of its forecasts. With those amazing features, this app will definitely earn a place on our list of best weather apps.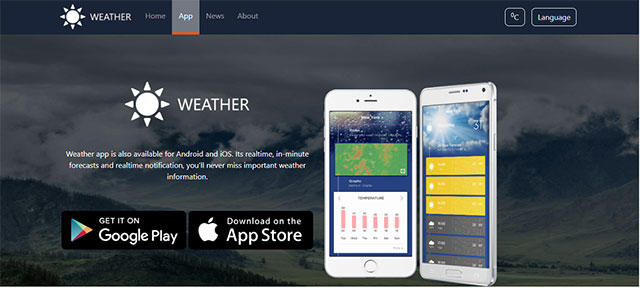 Best weather app for iOS and Android
Weather Underground
Another great weather app is Weather Underground, which tells you everything, from how long a current rain shower is going to last to forecasting the wind speed where you live next week. Weather Underground's features include a radar map, ski resort reports, and sunrise and sunset times, etc. For those who are interested in outdoor activities, Weather Underground is a perfect tool.  Its best feature of "smart forecast" allows you to describe your preferred weather for your journey (a sunny morning, for example), and then the app will tell you the time that forecast is expected next. In addition to using user-submitted weather data for accurate forecasts, Weather Underground also has severe weather alerts as well.
Geometric Weather
This weather app is a cool option for those who appreciate simplicity over vast amounts of data. It displays the weather now, as well as the hourly, daily, and weekly forecasts in an elegant layout. Even when you have your screen locked, it displays clean, dynamic wallpaper with a geometric sun or cloud that changes depending on the forecast. There are no temperature indicators, no icons, no widget clutter—just an appealing illustration to indicate whether or not you'll need an umbrella.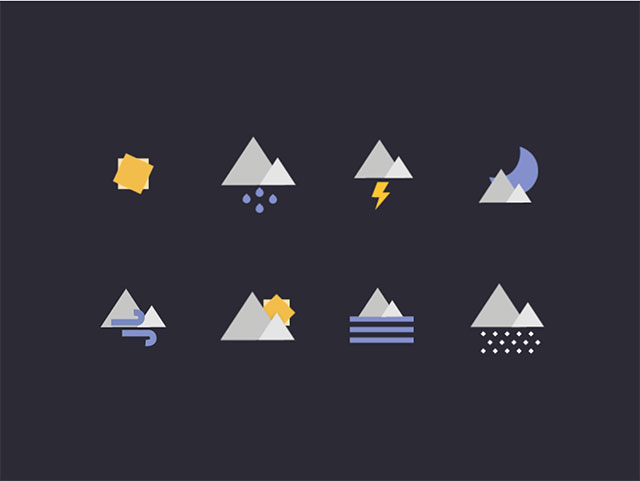 Is Geometric Weather the best weather app?
Dark Sky
Developed with intelligent algorithms, Dark Sky can predict accurately local weather conditions that are likely to happen. Apart from short-term forecasts and alerts about imminent storms, the app also offers longer-term forecasts in a range of geographic areas.
The time machine is the coolest featured found in this app because it lets you explore weather conditions at a specific time in either the past or future. Is Dark Sky earn the best weather app? We're waiting for your sharing!
Carrot Weather
If you like honest weather forecasts, then Carrot Weather is a great option. What makes this weather app different is that it combines weather prediction with sarcastic quips and film quotes. The actual meteorological data of the app will allow you to check hourly, daily, and weekly temperatures and wind speed. Plus, with the graphic shown at the top of the app screen, you can know how the weather for the next few hours looks like at a glance. 
This app also gives you alerts about upcoming weather conditions, so you will be well prepared for the next trips. 
Weather on the Way
Weather on the Way might be best-suited for those who are going on a trip. Why?
The combination of navigation and weather enables the app to calculate your route and shows a forecast for points you will be driving through along the path precisely. When you drive, it also displays where you are, current temperature, humidity, wind speed, UV Index, and more. For the detailed information, you can tap any of the forecasts. 
Best weather app for iOS and Android
The Weather Channel
Want to watch TC weather on your phone? The Weather Channel app is perfect. 
Not only does this weather app provide a quick summary of current and upcoming patterns, in the forms of statics or videos form. Everything is elegantly laid out, making it easy for you to get around. So whether you want a quick update on what the weather's going to do in the next 10 minutes or want to take a deep dive into next week's expected wind speeds and precipitation levels, The Weather Channel has you covered. We are also impressed by the little flashcards showing important data in a rotating carousel. 
Conclusion
Which is the best weather app? There is no exact answer to this question as it depends on your needs and your heart. But these apps mentioned above will be helpful for you to some extend. Give one a go and see how amazing it is. Is there any app that should be included in this list? Please share it with us in the comment section below.