Christmas weather forecast: Is it perfect weather for the USA holiday?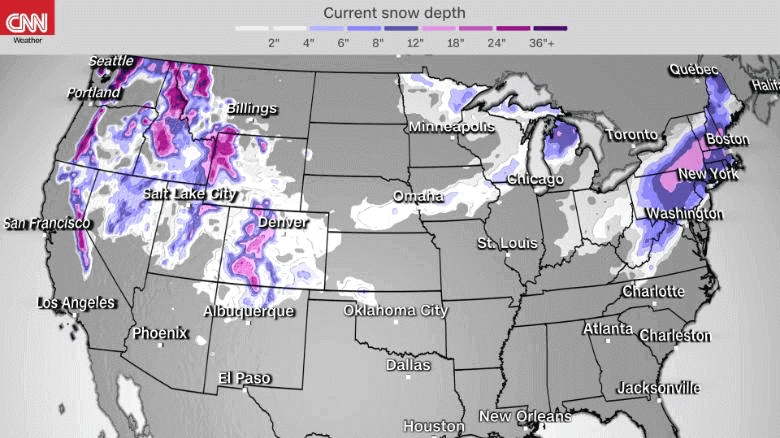 Christmas weather forecast: Is it perfect weather for the holiday?
In accordance with AAA, there maybe three-quarters of Americans staying home during this holiday season. The rest with about 85 million who might travel from December 23 through January 3 however, it is still essential for them to keep an eye on the weather, as some weather systems will be moving across the country.
What is the Christmas weather forecast?
White Christmas
Like the UK, White Christmas also passes through in the USA. According to the National Oceanic and Atmospheric Administration (NOAA), we will experience more inches of snow on the ground in the morning. 
It is possible a storm passing through the Northeast and can dump more than 3 feet on some parts. 
In the western mountains, the snow has been already deep on the ground. However, it is forecasted to have more powder this weekend from Washington state through Wyoming. Moreover, some areas are likely to get snow or rain. 
For example, Chicago could not be able to get snow under the American model or snows drop up to 8 inches in the European model.
In contrast, Minneapolis is different. It can get snow under the American model, snows are forecasted to drop up to 8-12 inches, while the European model has none.
Temperature rollercoaster
In this week, you will see temperature like a rollercoaster, up and down suddenly.
In detail, Denver is forecasted to reach a high temperature of nearly 60 degrees on Tuesday. But after that, it could quickly drop to only around 30 the next day.
The center of the country is expected a pleasant start of the week when temperatures will range from 15 to 25 degrees spreading from North Dakota down to Texas. As that warmth covers all the East on Wednesday and Thursday, it will become much colder air. The temperatures will be around 10 to 15 degrees on Thursday from Minnesota to Mississippi.
On 25th December, Indianapolis, Cleveland, and Washington, DC, will experience quite balm weather with the expected temperature of 15 degrees below normal.
Christmas weather forecast says South Florida will see cooler temperatures. On Christmas Day, the temperature will be average 10 degrees below normal in Miami, Tampa, and Orlando.
For more weather news and information, check out here.!