5 easy women's hairstyles for hot weather to beat the heat
How should you style your hair during hot summer days to both keep yourself cool and still look pretty? Of course, it sounds like a quite hard question for many girls and women to answer, right? Don't worry about that because right below here are 5 easy women's hairstyles for hot weather to beat the heat. Explore them now!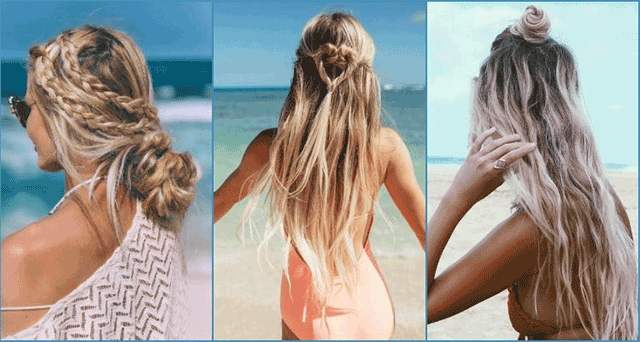 Hairstyle for warm weather: How should you style your hair during hot summer days to both keep yourself cool and still look pretty?
There is a whole world of easy but delightful hairstyle ideas out there that can make you feel lighter and more relaxed in warm weather. No matter whether you have short, long, thin, or thick hair, there is a style for you that will not only keep your hair away from your face, your body but also give you a super chic look. 
Here are some suggestions for you. Read on to find great hairstyles for hot weather that you should go for during the summer months. Plus, there will be useful summer hair care tips introduced to you later on in this article. 
Top 5 easy women's hairstyles for hot weather 
With 5 easy women's hairstyles for warm weather right below here, you will stay cool and have great looks even on the hottest days of the summer. 
High ponytail 
The first classy hairstyle for summer that we want to introduce to you here is the high ponytail. This hairdo will not only give us such a simple and elegant look but also keep your hair off your neck and out your face. Plus, it takes just some seconds to style.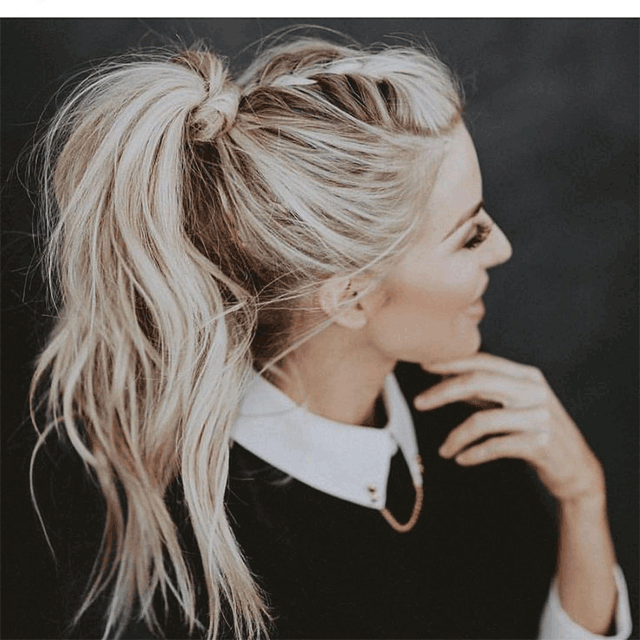 High ponytail hairstyle
A high ponytail seems so perfect for a casual look, or you can also dress it up by wearing accessories like statement earrings. Such a mature and modish look with a simple dress, big earrings, and our hair all slicked back.
Also, a high pony is a great option to style your hair for work. If you want to hide your hair elastic, just simply wrap a thin piece of your hair around the elastic and tuck it under. Enjoy your confident summer look with this easy hairstyles for hot weather.
Low pony
While it's so hard to do a high ponytail updo if you have short hair, a low pony will be the perfect choice for you. Like the high pony hairstyle, this one also gives you a simple but classy look that is perfect for not only work, but also parties, dinner dates, and more. You can show off this style anytime, anywhere you go.
Ideally, this hairstyle seems to best suit ones with naturally straight and fine hair and those with oval and heart-shaped faces.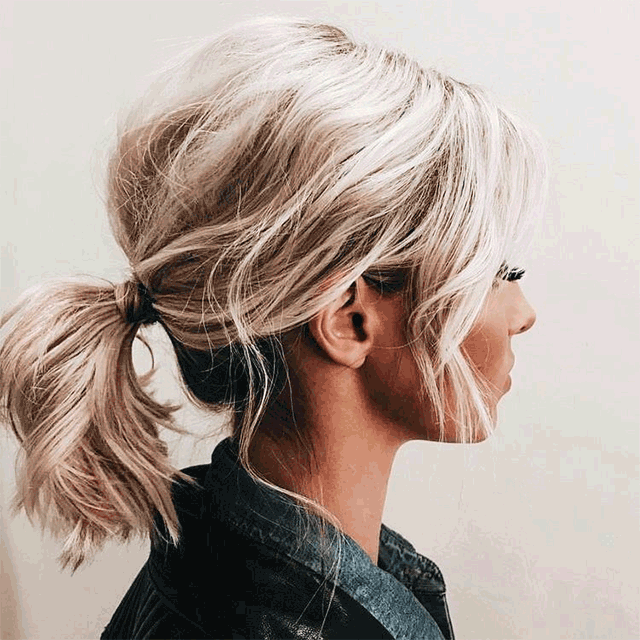 Hairstyles for hot weather: Short hair low ponytail hairstyle 
Fishtail braid
Though the fishtail braid seems to not be as simple and easy to style as the ponytail, this hairstyle is well worth trying during summertime. That is because this look is quite trendy and unique, and to be honest, it's not as complicated as it looks. That means you can style it yourself.
Wearing this style, people around might even think that you got it professionally done. Well, to do a fishtail braid, just simply pull your hair in a low ponytail and then secure it with a small hair tie. Next, do a fishtail braid down the ponytail, tying it with another hair elastic.
To create a more interesting look, you can pull the braid apart so it will look softer and a little looser. It is great to wear either a straight or side fishtail braid together with casual sunny weather outfits to barbecues, graduation parties, street fairs, etc.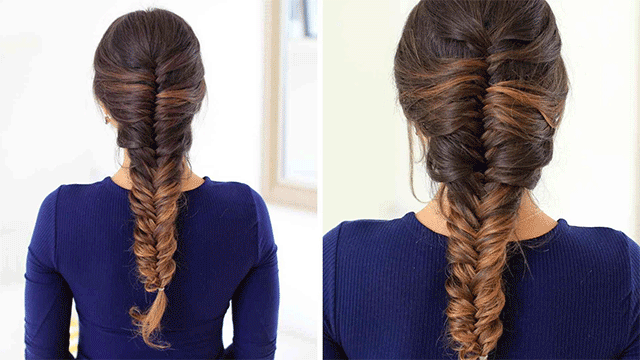 French fishtail braid hairdo
Low bun
When it comes to easy hairstyles for hot weather, the low bun is a must-try. Though it's one of the easiest hairstyles mentioned in this article, it gives us such a classy look.
Either a loose low bun or a tighter low bun is good to try. You will have a quite chilled-back look with a loose messy low bun that is so great for a morning coffee date. About a tighter low bun, it seems to be a more sophisticated look that is ideal for wear to work or any meetings.
Low messy bun hairstyle for summer
Top Knot
It's not surprising that the top knot is one of the most favorite women's hairstyles during summertime. This modern updo is simple, easy to wear, versatile, and the most important thing here is that it helps keep our hair up and off our neck.
Wearing the top knot is a good way to keep yourself cool and classy in hot weather. This hairdo can be worn smooth and polished for the office or messy for the weekends.
To style a top knot, first, simply pull your hair in a high ponytail and secure it with a small elastic hair tie. Then, divide the ponytail into 2 sections and twist each section around it.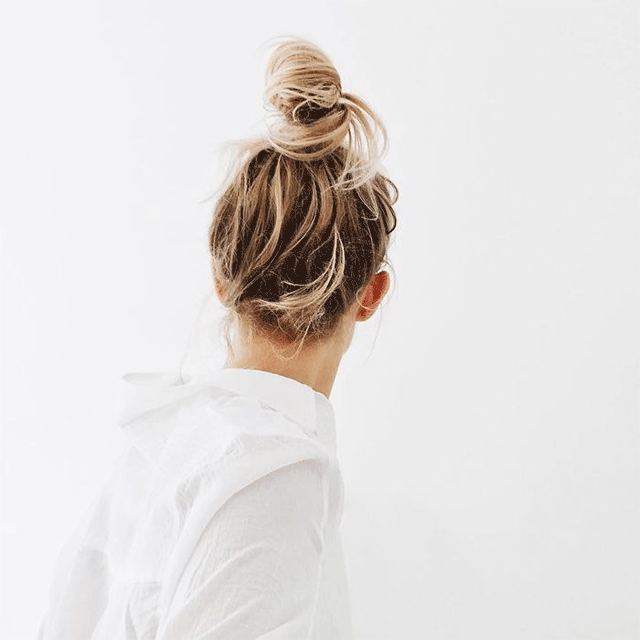 Topknot hairdo
Next, wrap the twisted sections of hair clockwise around your hair tie. Finally, secure hair with a couple of bobby pins, and that's all done. So, quick, simple, and easy to do, right?
This hairdo seems to go best with types of outfits like oversized t-shirts, biker shorts with a zip-up hoodie, or cropped sweaters with denim shorts. Well, once you have the perfect top knot look, you might want to stay with this look the whole summer.
Others
Along with these 5 simple hairstyles for hot weather, there are a lot of other great hairdos that you can try. Side braid low ponytail, half messy bun, french braid into a ponytail, or double french braid ponytails, etc are a few more suggestions for you. 
These are also simple, easy to wear and don't take much time to style. They will give you new and classy looks this summer. You can look for tutorials on the internet to know ways and steps to style these hairdos.
In the next part of this writing, we are going to share with you some useful hair care tips. Let's move on to learn basic but important things on how to keep your hair healthy and beautiful during the hot summer months. 
Top summer hair care tips every woman needs to know
It's not only important to decide which hairstyles for hot weather to go with in summer, but also take good care of it to avoid severe effects of the sun's overpowering rays. Here are some important summer hair care tips that you should stick to in hot and sunny weather. 
Use a hair mask
For many people, hair masks are key to keeping the hair looking its best in the summer. Applying a nourishing hair mask once a week at home is considered enough to coax hair into good condition, according to elle.com.
There are a lot of at-home hair masks and treatments for sale on the market these days. And if you want, you can DIY a homemade hair mask by following great recipes for hair masks on the internet.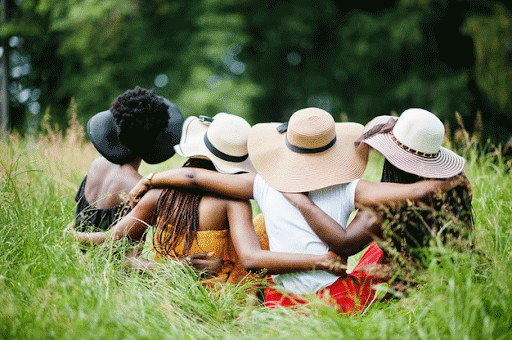 Wearing a hat is essential to keep your hair protected 
Wear a hat
Too much sun exposure to hair is really not a good idea for sure. The UV rays that directly come to your hair affect it in many ways. Do you know this can make your hair gray before you're aged?
So, though it sounds obvious, wearing a hat is essential to keep your hair protected from potential damages caused by sunlight. You can also use cloth, craft, or an umbrella instead of a hat or a cap to cover your hair.
Wear loose hairstyles
As mentioned before, it's best to wear hairstyles that make you comfortable and stay cool in the summer. In the previous part of this writing, we introduced to you 5 simple, classy hairstyles for hot weather to go with. 
You can try out these ones or wear any hairdos that you find stylish and match your outfits and your face shape. But keep in your mind that it's best to choose loose, carefree styles in hot weather. They will help you feel good and look good. 
If you wear a tight hairdo, you know that there'll be a wider scope of sweat accumulation that can cause dirt and dandruff.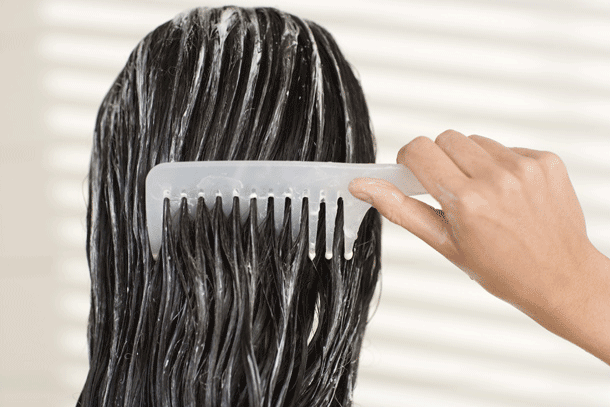 Don't forget to put conditioner on hair in the summer
Put conditioners
After shampooing your hair, don't forget to use a conditioner to replenish moisture for your hair. It's especially important during the summer season.
There is a wide assortment of conditioners on the market for you to choose from. Shop for the one that works best for your hair type. Also, consider picking or switching your conditioner and shampoo to moisturizing formulas for a deeper level of moisture.

Hairstyles for hot weather: Not just your skin absorbing damaging UV rays from the sun, your hair does too
Sunscreen for your hair
When it comes to skincare tips and makeup tips for hot weather, well, applying sunscreen is a must. But not just your skin absorbing damaging UV rays from the sun, your hair does too. So, it's necessary to protect your hair by using sun protection products for hair.
There is a wide range of summer hair care products on the market that include UV filters to protect your strands. From shampoos, sprays, oils, conditioners, to masks, shop for ones having the right amount of sunscreen and work best for your hair type and your hairstyles.
Avoid excessive heat
In the summer, well, there is too much heat outside and we absolutely don't need to add more heat to the hair by using hair tools and appliances. This is the season to ditch these appliances. It's not really necessary to use them to do your hairstyles for hot weather.
One of the first things you should leave in the drawer is nothing but the hairdryer. During summer, our hair tends to dry up quickly and easily. So, it's not necessary to use this tool that brings out the heat.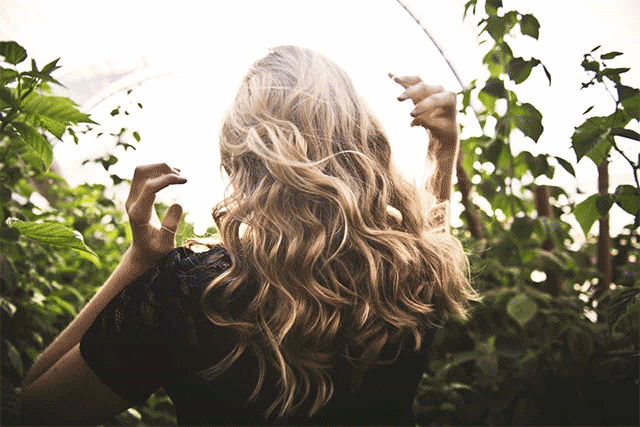 Avoid adding excessive heat to your hair during summer
Instead, it's better to use a microfiber towel to blot your wet hair dry. This will absorb the water quickly and help avoid frizz. Then, opt to air dry while you're finishing the rest of your morning routine.
Leave your straightener and curling iron in the drawer as well. Avail of natural ways to keep your hair healthy.
Conclusion
Recently, we together found out the top 5 easy hairstyles for hot weather to beat the heat. They are all easy to style with just some bobby pins and a couple of hair elastic, right? Any of us can do these hairdos within 5 minutes. That's so great. 
Besides, we also introduced to you a few basic tips on how to protect and take care of your hair in the summer season. Hope that they will help your hair stay shiny and healthy even during the very hot and sunny days. Well, that's all for today's article. It's so great if you found this article and its information helpful and interesting!
Sources:
society19.com/cute-hairstyles-for-warm-weather/
merricksart.com/6-quick-and-easy-hairstyles-for-hot-days/
shear-genius-salon.com/summer-hair-care-tips/
beautyhealthtips.in/summer-hair-care-advice-tips-for-women/
elle.com/uk/beauty/hair/a10546/why-you-need-to-start-planning-a-summer-hair-care-regime/