Is there rain, snow, and ice on the Iberian Peninsula?
While a storm is coming closer to central Europe this week which brings rain and snow, and an atypical weather pattern will be unfolding over the Iberian Peninsula.
Two continuous storms are forecasted across southwestern Europe, and each can make parts of Spain and Portugal experience rain, snow, and an icy mix. What reasons? Why happen this unusual weather pattern?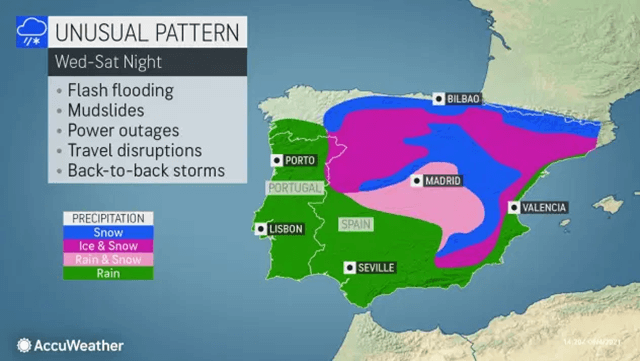 Is there rain, snow, and ice on the Iberian Peninsula?
According to AccuWeather Senior Meteorologist Tyler Roys, 3  features are creating this uncommon setup. They are a southerly storm track in the east-central Atlantic, the stalled over central Europe, and cold air from Scandinavian and northern Russia.
>>> Download the  Weather Forecast app to update weather news.
From the weather map, the first storm is forecasted to go across the Azores and toward Morocco in northern Africa on Tuesday night and then changing direction toward Spain on Wednesday.
Roys also states that "Rain will arrive across southern Portugal and south-coastal Spain Wednesday morning and expand northward,". When it goes to central Spain on Wednesday night, it will transition to snow. On Thursday afternoon, there will snow in the large area from the Ebro River Valley to the Northern Meseta by Friday afternoon.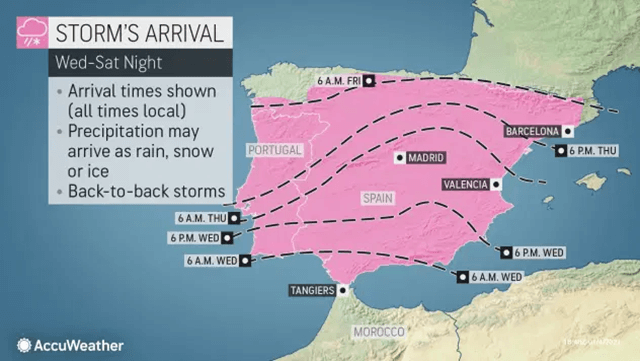 The Southern Meseta, the Northern Meseta, and the Ebro River Valley will also get sleet and freezing rain, snow. In contrast, the mountain ranges in northern and eastern Spain are just expected to accumulating snow.
After that, the second storm will rush over the Iberian Peninsula from the Azores from late Thursday through Saturday night, which causes huge precipitation. 
It can reach totals of 25-50 mm (1-2 inches) across the southern half of Spain and the southern coast of Portugal.
Rainfall amounts of 50-100 mm (2-4 inches) will occur across the southwestern coastal region of Andalucia.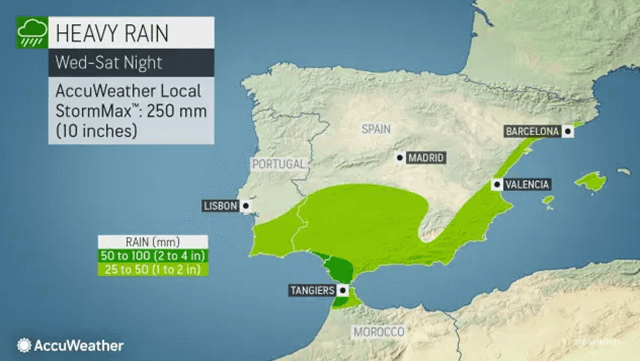 As a result, there is a high risk of flash flooding, especially, in low-lying or poor drainage areas. 
In the northern half of Spain and the northern Sistema Penibetico, snowfall totals of 3-8 cm (1-3 inches) are forecasted through the end of the week and the weekend.
The Sistema Iberico, the Sierra de Guadarrama, the eastern Cordillera Cantabrica, and the western Pyrenees can have snow of about 15-30 cm (6-12 inches), according to Roys. 
Update more weather news at the website Weather Forecast.