Vietnam Weather New: the North continues to extreme cold & The Central has rainfall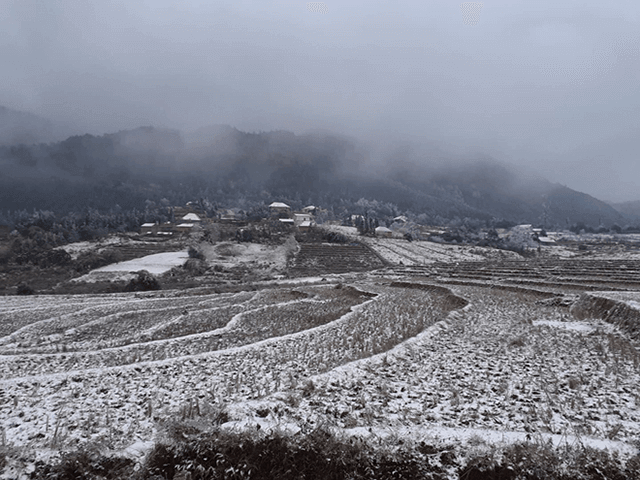 According to the National Center for Meteorological and Hydrological Forecasting, this morning (January 12), the provinces in the North are blocked deeply in the cold air, and in many places, the temperature continues to drop severely. At the same time, the damaging cold has happened in the provinces from Thanh Hoa to Thua Thien - Hue.
At 6 am this morning, the lowest recorded temperature in Sa Pa (Lao Cai) was -1.6°C, nearly 1°C lower than the morning of January 11; Mau Son (Lang Son) was 0.8°C; Pha Din (Dien Bien) was -0.4°C; Tam Dao (Vinh Phuc) was 5.1°C; Dong Van (Ha Giang) was 3.6°C ...
According to the Weather Forecast, today, the North start to see sunny in the afternoon, the night and early morning still cold and frigid. Meanwhile, in the Central region, showers and thunderstorms can appear in some places.
In the North and the provinces from Thanh Hoa to Thua Thien - Hue, it is still frigid with the lowest temperature at 7-10°C at night, mountainous areas were 4-7°C.
Notably, from January 12, high mountain areas are less likely to snow due to low humidity in the air. However, when the temperature is below 0°C, snow and frost potential appear.
While the area from Da Nang to Quang Ngai has an intermediate temperature of 15-18°C. The Central Highlands gets cold whilst the South Central Coast and the South freeze at night and early in the morning.
In the Gulf of Tonkin on January 12, there is a strong northeastern wind level 6, shock level 8, rough seas, at night, winds gradually decrease and sea ​​waves from 2.0 to 3.0 m high.
The Central, Southern, and East Sea areas (including the waters of the Hoang Sa and Truong Sa archipelagos) have strong northeastern winds of 6-7, shock level 8-9, high waves from 3 to 5m; the night the wind gradually decreased. In the mainland provinces of Central Vietnam, there are strong northeastern winds of level 3-4, coastal areas level 5, shock level 6.
>>> For updated weather prediction, stay tuned to the website Weather Forecast.