A series of potent storms increase flood risk in Northwest
A short series of potent storms are predicted to pound Washington, Oregon, British Columbia, and parts of Northern California and Idaho. With moisture from the central Pacific, they make rain at low elevations in these areas and combine snowfall over the high country by Wednesday that raises flood risk. 
A long plume of moisture is formed from just north of Hawaii on Monday morning. As a result, heavy rain and mountain snow stretch along the West Coast. Besides, it is expected to snow over the passes in the Cascades.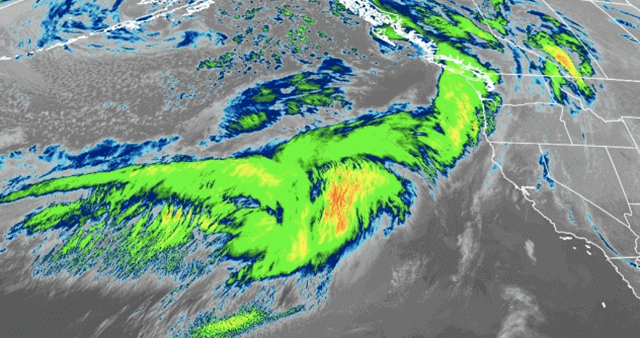 According to the weather forecast of AccuWeather, this parade of storms will cause overall 1-2 inches of rain along the coast at lower elevations, and on Wednesday morning, it can reach 2-3 inches at intermediate elevations. 
Moreover, although the anticipated rain and snow may not be too intense, there is still a high possibility of significant problems.
In detail, snow at the intermediate elevations will absorb the rainfall, however, in some cases, the combination between them can turn into small streams flowing the Cascades and Olympics.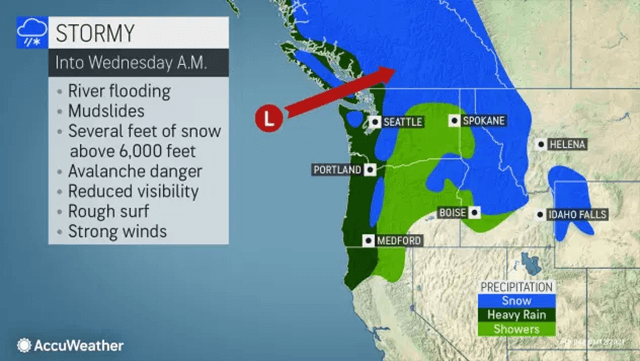 The combination of rain and soil may lead to mudslides especially in areas having wildfires in the past few years. In addition, a warning of avalanches is also sent. Wet snow falling from the storms this week and milder conditions could cause snowpack over the high country to become unstable enough to lead to avalanches.
From Wednesday to Thursday, it is predicted that strong winds will shift inland across the Rockies and Plains with gusts of 80 mph in some places. 
From mid to late week, a new weather pattern will form along the Pacific coast. One Northward bulge in the jet stream develops and promotes Pacific storms to the north toward Alaska to the late next week even the latter part of January. This pattern may bring spotty showers to the Northwest.
Another pattern will lead to a high temperature up to 8-15°F from the middle of the week into next week. In coastal Washington, the temperature can reach the upper 40°F. 
The warmth will raise up west of the Rockies while cold air stretches farther areas across North America from the mid to end part of January.
>>> For updated Weather Forecast news, visit the website Weather Forecast.