Scorching Heat Wave Moves Across Southern Europe
As temperatures started to rise in anticipation of what is expected to be a scorching weekend in southern Europe, Spain wilted under an unrelenting heat wave on Wednesday.
According to Spain's weather office, temperatures in the southeast of the Iberian Peninsula, which are on high heat alert, might reach 45°C (113°F). 
When the heat wave inflicting sleepless nights across the nation began on Monday in the village of Loja near Granada, that milestone was attained.
According to meteorologist Rubén del Campo of Spain's national weather bureau, more than 100 weather stations recorded temperatures of at least 35°C (95°F) as early as 6 a.m. on Wednesday.
Del Campo said that general temperatures will drop on Wednesday when cool winds from the North and East arrive.
However, it excepts for the southeast and southern Andalusia, where scorching winds flowing from the interior will cause temperatures to skyrocket
The Iberian Peninsula will have some reprieve in the coming days, while other European nations will suffer over the weekend.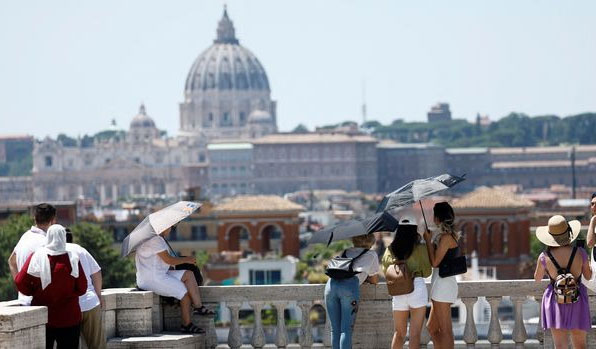 Sweltering heat wave hits Spain, Italy, and Greece
10 Italian cities—from Bolzano in the north to Bologna, Florence, and Rome—were placed on high heat alert for senior citizens and other vulnerable populations. 
The Sardinian inland is anticipated to experience temperatures as high as 40°C (104°F) on Wednesday.
Greece's heat wave, which was expected to hit some sections of the country with temperatures as high as 44°C (111°F), was also beginning to heat up. 
In order to lower the risk of wildfires, authorities prohibited entry to natural reserves and forests, while towns opened air-conditioned spaces in public buildings so that people might escape the heat.
Read next: Thailand's Soon Drought Impacts Sugar & Grains Global Supply