Best Tips for Exercising in Hot Weather
Working out under the heat can pose a threat to your body and health. A little carelessness can lead to a heat-related health condition such as heat stroke, heat exhaustion, or extreme dehydration. Here we put together some tips for exercising in hot weather that will help you safely work out on even the hottest of summer days.
Tips for Exercising in Hot Weather
Take a cold shower
You may consider taking a shower before your workout. When you finish your shower, ditch the blow dryer and opt for a wet head to help you to stay cool during your workout.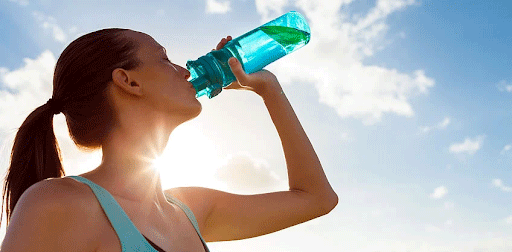 Stay safe with tips for exercising in hot weather
Stay hydrated 
Water is your best friend on a hot day for staying hydrated; however, if you're planning to exercise for more than 60 minutes, you may also want to consider sipping on a sports drink. 
Sports drinks are important when working out for prolonged periods of time, especially in the heat, because they contain potassium and electrolytes that can rehydrate and replenish your body. The high levels of sodium may actually be good for your body as well as sodium is a key ingredient for a hot day. 
As with everything, moderation is key.
Wear light clothing
It's advisable to wear bright-colored clothing as it will reflect the sun and also help to make you more visible to oncoming traffic. You should also opt for cotton sweat-wicking shirts and shorts as they are light-weight and affordable to keep you dry.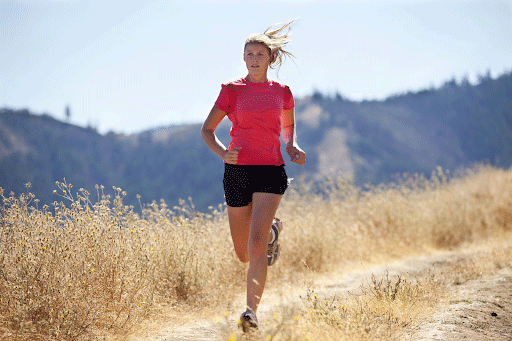 Here are tips for exercising in hot weather
Don't forget the sunscreen
It easy to get a bad sunburnt when trying to complete a summer workout. So, slathering on sunscreen is the best way to avoid it. Opt for s sunscreen with an SPF of at least 50 and one that is water-proof so that it doesn't come off once you start sweating.
Timing is everything
10 a.m. to 3 p.m. is known for being the hottest time of the day in the summer. If you're planning an outdoor workout, try to do it either before or after this time slot. 
Many athletes prefer to work out earlier in the morning as it can help them to stay energized throughout the day and to sleep better at night.
Don't fear the water
Summer is the perfect time to make water your friend. On especially hot days, try adding a water activity to your workouts such as swimming, surfing or Stand-Up-Paddle Boarding (SUP). These activities will help you to stay fit and healthy in the summer in a fun and new way while also staying cool. Who knows, you may end up finding a new favorite exercise.
Prefer to run instead? No worries, you can still get in on the water action. Next time you see what looks like a "rainy day", opt to run with the rain rather than against it. Running during a rainy day can help you to stay cool and many athletes find these workouts to be invigorating and refreshing.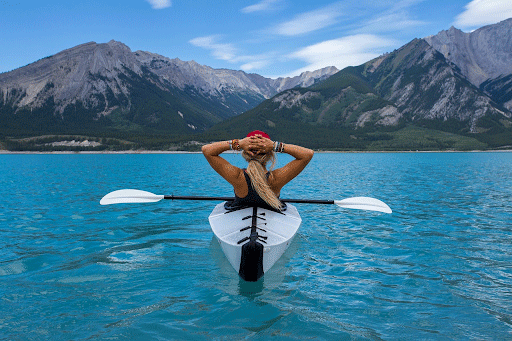 Amazing tips for exercising in hot weather
The key to successfully running in the rain is to be prepared. Wear bright clothing and make sure all of your clothing is water-proof (this includes shoes and accessories such as a cell-phone case). Avoid running around cars that may have trouble seeing you. 
Running in a little bit of rain won't harm you, but if you see lightning or hear thunder, you'll want to return inside to safety as quickly as possible.
Take indoor workouts
There's nothing wrong with working out indoors at your local gym or even in your home if you have the equipment. On days when there is an excessive heat warning, this can be your best decision to stay cool and avoid a heat-related injury while still getting in your workout.
Know your limits
Listen to your body and if you begin to feel dizzy, nauseous, or tired, give yourself a break. Taking some time off for rest is better than overdoing your workout and getting sick or injured and having to stop working out altogether.
If the summer heat proves to be too much of a challenge for your standard high-intensity workout, break it up into multiple smaller workouts throughout the day. This will allow your body time to rest and refuel without jeopardizing your fitness and workout goals.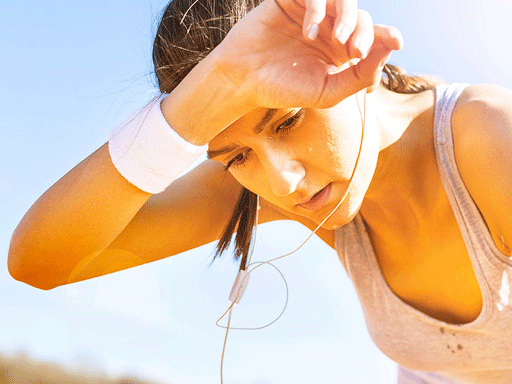 10 top tips for exercising in hot weather
Water
Water and hydration are among the optimal heat beaters. Not only does the blood in the body need water to maintain volume, but it also has a cooling effect on the skin and the whole body. Start with a soak in the water before training.
One study shows that immersing yourself in a tub of cold water for up to 30 minutes can improve cycling endurance. In the event that a cold bath is not available, the combination of a fan and a cooling jacket significantly improves the endurance of the workout in hot weather. 
Have fun and stay cool - and safe - this summer!
View the weather forecast
If you're the one who only practices at the gym, the weather doesn't matter much to your plan. But if you regularly exercise outdoors, check the weather forecast, especially the temperature warnings. Exercising in sunny, high temperatures on a summer day can make you sunstroke. Even when the sun is out in the afternoon, but the temperature is still high, you should not exercise.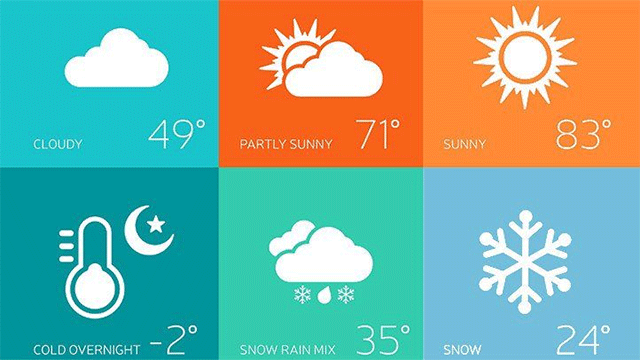 Best tips for exercising in hot weather
What happens when exercising in hot weather?
When exercising in high heat, blood is forced to circulate through the skin to cool the body, leading to a blood draw from the working muscle, causing the amount of blood pumped to the heart to decrease. This way of cooling the body with sweat is the main heat-reducing regime in exercise. However, redistribution of blood to the extremities is combined with a fluid loss by sweat production, which puts more strain on the heart.
When blood pressure and cardiac performance decrease, body temperature increases rapidly. Then the training performance also decreases. At the same time, nerve-muscle and metabolic function are also drastically reduced. 
Conclusion
Summer is a favorable time for physical training and sports activities, physical exercise of all ages. However, in hot, hot weather in summer, trainees need to pay attention to avoid health problems that may arise during exercise. Hope those tips for exercising in hot weather will be helpful for you.