Amazed! Massive Iceberg Breaks off Ice shelf in Antarctica
167
views |
2:57pm on Friday 19th March 2021
A massive iceberg bigger than New York city broke off the Burnt Ice Shelf, according to a statement from the British Antarctic Survey (BAS).
This iceberg, measuring 1,270 square kilometers, cleaved near Britain's Helley research station, which was closed for the season earlier this month after the beginning of the Antarctic winter. Thus, the research station isn't likely to be affected by the incident.
The last major chunk to break off in this location was in the early 1970s, the BBC said. The ice sheet formed when the crack widened a few hundred meters for a few hours on the morning of February 26, freeing it from the remains of the floating ice shelf.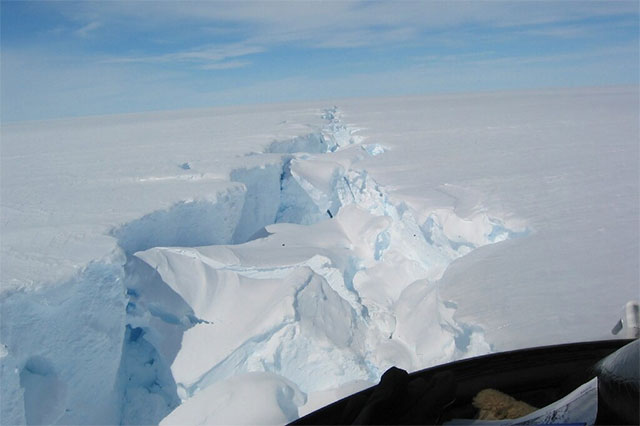 Massive iceberg bigger than New York city broke off the Burnt Ice Shelf
The process by which ice blocks suddenly break away from an ice shelf or a mass of ice is called Ice-calving. There is no evidence that this event is attributed to climate change.
Scientists reportedly have observed large cracks in the ice shelf and have been expecting a bog calving for over ten years.
"Our teams at BAS have been prepared for the calving of an iceberg from Brunt Ice Shelf for years," Professor Dame Jane Francis, the director of British Antarctic Survey (BAS), said.
Amazed! Massive Iceberg Breaks off Ice shelf in Antarctica
The first sign of a calving event was imminent in November 2020 when a new chasm - known as the North Rift - approached another large chase near the Stancomb-Wills Glacier Tongue 35 km away.
BAS is currently keeping a close eye on the impact of the calving event, which can be unpredictable. Experts have said that calving at this intensity can cause more chunks of ice to break off the ice shelf.
Read also:
Related Stories
Get Prepared. Here's Severe Weather Advice
9:06am on Friday 3rd December 2021
Learn severe weather advice to stay safe and well. Hazardous conditions like wind, storm, snow are dangerous. Follow our helpful tips